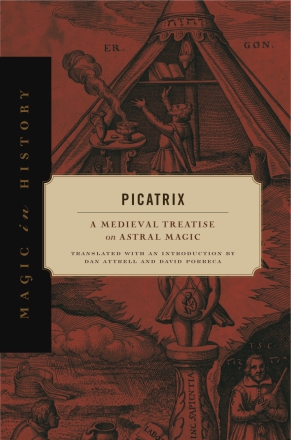 Picatrix
A Medieval Treatise on Astral Magic
Translated with an introduction by Dan Attrell and David Porreca
Buy
Picatrix
A Medieval Treatise on Astral Magic
Translated with an introduction by Dan Attrell and David Porreca
"Attrell and Porreca have performed a great service by giving us a carefully considered and scholarly English translation of this wide-ranging work, based on the authoritative edition established by David Pingree in 1986. . . . As Picatrix was no doubt of interest to a variety of medieval and early modern readers for an array of reasons, so too it should attract a broad readership now, from scholars of medieval magic to those more directly interested in philosophy, science, and medicine."
Description

Reviews

Bio

Table of Contents

Subjects

Errata
A manual for constructing talismans, mixing magical compounds, summoning planetary spirits, and determining astrological conditions,
Picatrix
is a cornerstone of Western esotericism. It offers important insights not only into occult practices and beliefs but also into the transmission of magical ideas from antiquity to the present. Dan Attrell and David Porreca's English translation opens the world of this vital medieval treatise to modern-day scholars and lay readers.
The original text, Ghāyat al-Ḥakīm, was compiled in Arabic from over two hundred sources in the latter half of the tenth century. It was translated into Castilian Spanish in the mid-thirteenth century, and shortly thereafter into Latin. Based on David Pingree's edition of the Latin text, this translation captures the spirit of Picatrix's role in the European tradition. In the world of Picatrix, we see a seamless integration of practical magic, earnest piety, and traditional philosophy. The detailed introduction considers the text's reception through multiple iterations and includes an enlightening statistical breakdown of the rituals described in the book.
Framed by extensive research on the ancient and medieval context that gave rise to the Latin version of the text, this translation of Picatrix will be an indispensable volume for students and scholars of the history of science, magic, and religion and will fascinate anyone interested in the occult.
"Attrell and Porreca have performed a great service by giving us a carefully considered and scholarly English translation of this wide-ranging work, based on the authoritative edition established by David Pingree in 1986. . . . As Picatrix was no doubt of interest to a variety of medieval and early modern readers for an array of reasons, so too it should attract a broad readership now, from scholars of medieval magic to those more directly interested in philosophy, science, and medicine."
"The Picatrix, of Arabic origin, is the most complete handbook of the theory and practice of magic of the Middle Ages and Renaissance. Here is a very welcome English translation of the Latin version that was read by Marsilio Ficino, Pico della Mirandola, and Heinrich Cornelius Agrippa. Porreca and Attrell have made the text a pleasure to read and have provided useful notes to explain everything that is obscure or exotic."
"A detailed medieval handbook of magic, Picatrix has been a focus of scholarly attention for a century, even though its early history remained obscure and it lacked a reliable English translation. Attrell and Porreca's contribution offers a proper remedy: the introduction gives new insight into the origins of this mysterious book, and the translation reflects the true nature of its exciting text. A word of caution, though: don't try the recipes!"
"The Picatrix reemerged in the mid-fifteenth century, almost two centuries after the Latin version of the Ghâyat al-Hakîm had been produced. Thank goodness that this learned and living English translation of such an important Latin book of astral magic will reach its twenty-first-century audience of scholars and inquisitive spirits much more quickly!"
Dan Attrell is a doctoral candidate in Medieval and Renaissance History studying the Western esoteric tradition at the University of Waterloo.
David Porreca is Associate Professor of Classical Studies and codirector of the Medieval Studies program at the University of Waterloo and is president of the Societas Magica.
Contents
• List of Tables
• Acknowledgments
• Introduction
• A Prehistory of the Latin Picatrix
• A Brief History of the Latin Text
• On Knowledge, Wisdom, and Self-Legitimacy in the Picatrix
• On Nigromancia
• The Cosmology of the Picatrix
• The Picatrix, Social History, and Material Culture
• Psychoactive and/or Poisonous Substances in the Picatrix
• Translators' Notes
• Picatrix
• Prologue
• Book 1
• Book 2
• Book 3
• Book 4
• Notes
• Bibliography
• Index of Terrestrial Names
• Index of Celestial Names and Magical Words
• Index of Subjects and Materials
Mailing List
Subscribe to our mailing list and be notified about new titles, journals and catalogs.