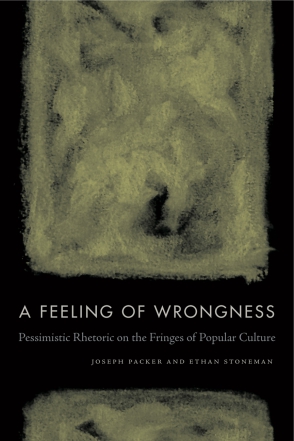 A Feeling of Wrongness
Pessimistic Rhetoric on the Fringes of Popular Culture
Joseph Packer and Ethan Stoneman
BUY
A Feeling of Wrongness
Pessimistic Rhetoric on the Fringes of Popular Culture
Joseph Packer and Ethan Stoneman
"This work explores our contemporary fascination with pessimism with such a strange relish and joy that one can't help but feel relief that the end of human exceptionalism means the opening of weird new narratives and worlds (rather than the dire existential crisis we expected). Rigorous and cynical while being jubilant, the book is a marvelous injection of vitalistic wrongness to a sometimes tedious field."
Description

Reviews

Bio

Sample Chapters

Subjects
In
A Feeling of Wrongness
, Joseph Packer and Ethan Stoneman confront the rhetorical challenge inherent in the concept of pessimism by analyzing how it is represented in an eclectic range of texts on the fringes of popular culture, from adult animated cartoons to speculative fiction.
Packer and Stoneman explore how narratives such as True Detective, Rick and Morty, Final Fantasy VII, Lovecraftian weird fiction, and the pop ideology of transhumanism are better suited to communicate pessimistic affect to their fans than most carefully argued philosophical treatises and polemics. They show how these popular nondiscursive texts successfully circumvent the typical defenses against pessimism identified by Peter Wessel Zapffe as distraction, isolation, anchoring, and sublimation. They twist genres, upend common tropes, and disturb conventional narrative structures in a way that catches their audience off guard, resulting in belief without cognition, a more rhetorically effective form of pessimism than philosophical pessimism.
While philosophers and polemicists argue for pessimism in accord with the inherently optimistic structures of expressive thought or rhetoric, Packer and Stoneman show how popular texts are able to communicate their pessimism in ways that are paradoxically freed from the restrictive tools of optimism. A Feeling of Wrongness thus presents uncharted rhetorical possibilities for narrative, making visible the rhetorical efficacy of alternate ways and means of persuasion.
"This work explores our contemporary fascination with pessimism with such a strange relish and joy that one can't help but feel relief that the end of human exceptionalism means the opening of weird new narratives and worlds (rather than the dire existential crisis we expected). Rigorous and cynical while being jubilant, the book is a marvelous injection of vitalistic wrongness to a sometimes tedious field."
"A new and important perspective on pessimistic appeals. This book's value lies in its connection of the old theme of pessimism to today's dominant forms of culture and entertainment. This is a fruitful new approach and will interest people in rhetorical studies, philosophy, film studies, and other disciplines."
"This book is an important and original contribution to the philosophy of rhetoric and persuasion. It is a provocative intervention into understanding how pessimism, perhaps best understood through feeling, maintains its rhetorical power."
Joseph Packer is Associate Professor of Communication and Dramatic Arts at Central Michigan University. He is the author of Alien Life and Human Purpose: A Rhetorical Examination Through History.
Ethan Stoneman is Assistant Professor of Rhetoric and Public Address at Hillsdale College.
Mailing List
Subscribe to our mailing list and be notified about new titles, journals and catalogs.