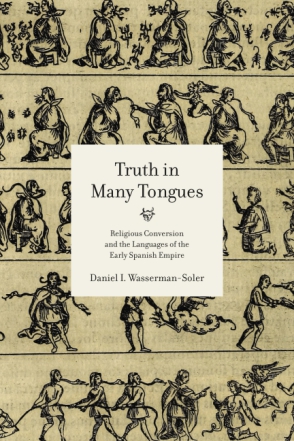 Truth in Many Tongues
Religious Conversion and the Languages of the Early Spanish Empire
Daniel I. Wasserman-Soler
BUY
Truth in Many Tongues
Religious Conversion and the Languages of the Early Spanish Empire
Daniel I. Wasserman-Soler
"This book offers an exciting glimpse into the development of Spanish linguistic policy regarding conquered peoples in the early modern period on both sides of the Atlantic. It is a courageous undertaking, confronting the Spanish efforts to evangelize first the Arabic speakers devoted to Islam on the Iberian Peninsula and then come to grips with the multifaceted linguistic challenge of converting indigenous peoples in the Americas to Christianity."
Description

Reviews

Bio

Table of Contents

Sample Chapters

Subjects
Truth in Many Tongues
examines how the Spanish monarchy managed an empire of unprecedented linguistic diversity. Considering policies and strategies exerted within the Iberian Peninsula and the New World during the sixteenth century, this book challenges the assumption that the pervasiveness of the Spanish language resulted from deliberate linguistic colonization.
Daniel I. Wasserman-Soler investigates the subtle and surprising ways that Spanish monarchs and churchmen thought about language. Drawing from inquisition reports and letters; royal and ecclesiastical correspondence; records of church assemblies, councils, and synods; and printed books in a variety of genres and languages, he shows that Church and Crown officials had no single, unified policy either for Castilian or for other languages. They restricted Arabic in some contexts but not in others. They advocated using Amerindian languages, though not in all cases. And they thought about language in ways that modern categories cannot explain: they were neither liberal nor conservative, neither tolerant nor intolerant. In fact, Wasserman-Soler argues, they did not think predominantly in terms of accommodation or assimilation, categories that are common in contemporary scholarship on religious missions. Rather, their actions reveal a highly practical mentality, as they considered each context carefully before deciding what would bring more souls into the Catholic Church.
Based upon original sources from more than thirty libraries and archives in Spain, Italy, the United States, England, and Mexico, Truth in Many Tongues will fascinate students and scholars who specialize in early modern Spain, colonial Latin America, Christian-Muslim relations, and early modern Catholicism.
"This book offers an exciting glimpse into the development of Spanish linguistic policy regarding conquered peoples in the early modern period on both sides of the Atlantic. It is a courageous undertaking, confronting the Spanish efforts to evangelize first the Arabic speakers devoted to Islam on the Iberian Peninsula and then come to grips with the multifaceted linguistic challenge of converting indigenous peoples in the Americas to Christianity."
"This book will no doubt encourage scholars to test further the bird's eye view of changing norms against the social history of Spanish in the Iberian and colonial overseas contexts, where multiple languages and cultures coexisted and transformed, and the hierarchies among them endured."
Daniel I. Wasserman-Soler is Associate Professor of History at Alma College.
List of Illustrations
Acknowledgments
Note on the Text
Introduction
1. The Spanish Language and the Inquisition, ca. 1550–1600
2. Arabic and Spanish in Granada, ca. 1492–1570
3. Arabic and Romance in Valencia, ca. 1540–1600
4. Native Tongues and Spanish in New Spain, ca. 1520–85
5. Creating a Multilingual New Spain, ca. 1550–1600
Conclusion
Appendix: Linguistic Abilities of Franciscan Friars in Sixteenth-Century
New Spain
Notes
Bibliography
Index
Mailing List
Subscribe to our mailing list and be notified about new titles, journals and catalogs.