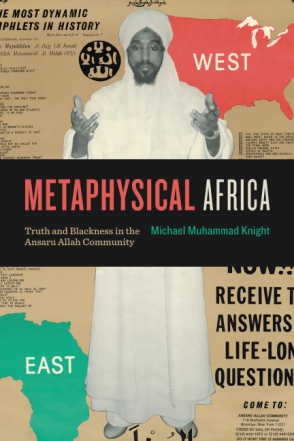 Metaphysical Africa
Truth and Blackness in the Ansaru Allah Community
Michael Muhammad Knight
BUY
Metaphysical Africa
Truth and Blackness in the Ansaru Allah Community
Michael Muhammad Knight
"In Metaphysical Africa, Michael Muhammad Knight demonstrates a substantial grasp of the origins and "inner workings" of the AAC-NIH in a refreshingly fulsome fashion. With a wonderful fusion of journalistic zeal and scholarly rigor, each chapter of this book lends itself to an intriguing, insightful representation of a profoundly dynamic Black religious worldview coming into its own."
Description

Reviews

Bio

Table of Contents

Sample Chapters

Subjects
The Ansaru Allah Community, also known as the Nubian Islamic Hebrews (AAC/NIH) and later the Nuwaubians, is a deeply significant and controversial African American Muslim movement. Founded in Brooklyn in the 1960s, it spread through the prolific production and dissemination of literature and lecture tapes and became famous for continuously reinventing its belief system. In this book, Michael Muhammad Knight studies the development of AAC/NIH discourse over a period of thirty years, tracing a surprising consistency behind a facade of serial reinvention.
It is popularly believed that the AAC/NIH community abandoned Islam for Black Israelite religion, UFO religion, and Egyptosophy. However, Knight sees coherence in AAC/NIH media, explaining how, in reality, the community taught that the Prophet Muhammad was a Hebrew who adhered to Israelite law; Muhammad's heavenly ascension took place on a spaceship; and Abraham enlisted the help of a pharaonic regime to genetically engineer pigs as food for white people. Against narratives that treat the AAC/NIH community as a postmodernist deconstruction of religious categories, Knight demonstrates that AAC/NIH discourse is most productively framed within a broader African American metaphysical history in which boundaries between traditions remain quite permeable.
Unexpected and engrossing, Metaphysical Africa brings to light points of intersection between communities and traditions often regarded as separate and distinct. In doing so, it helps move the field of religious studies beyond conventional categories of "orthodoxy" and "heterodoxy," challenging assumptions that inform not only the study of this particular religious community but also the field at large.
"In Metaphysical Africa, Michael Muhammad Knight demonstrates a substantial grasp of the origins and "inner workings" of the AAC-NIH in a refreshingly fulsome fashion. With a wonderful fusion of journalistic zeal and scholarly rigor, each chapter of this book lends itself to an intriguing, insightful representation of a profoundly dynamic Black religious worldview coming into its own."
"This book is the best study yet of the Ansaru Allah Community/Nubian Islamic Hebrews' teachings, a major leap forward in understanding the history of this much-misunderstood group. Michael Muhammad Knight departs from existing scholarly literature on the movement by showing the continuities as well as the changes in the group's religious thought, particularly concerning the place of its Islamic identity, and analyzes the coherence of the system rather than dismissing it as a senseless hodgepodge of a mad prophet."
"Metaphysical Africa is significant as it provides close readings of the primary AAC/NIH materials, many of which have never been examined seriously. Michael Muhammad Knight convincingly discusses the internecine arguments over the nature of Islam, Africa, and blackness for African American religious movements."
"Metaphysical Africa: Truth and Blackness in the Ansaru Allah Community is an important, well researched documentation of one of the more controversial representations of Islam in modern American society. You may not agree with their practices or what they believed in, but Knight will convince you their influence can't be ignored."
"Michael Muhammad Knight's Metaphysical Africa offers fresh insight into the Ansaru Allah Community. His approach provides a theory that explains many of the apparent inconsistencies seen in York's teachings. This is a well-researched and well-organized book for anyone interested in American religious history, particularly with a focus on Black separatism."
"Metaphysical Africa is a great achievement. Students and scholars of Afrodiasporic religion, culture, and politics will find much use in the concept of 'metaphysical Africa,' Knight's innovative discursive approach, and his reinterpretation of the movement's teachings."
Michael Muhammad Knight is Assistant Professor of Religion and Cultural Studies at the University of Central Florida. He is the author of thirteen books, including most recently Muhammad: Forty Introductions.
Acknowledgments
List of Illustrations
Introduction: "The Most Dynamic Pamphlets in History"
1. "I Am the Raisin-Headed Slave": The Nubian Ahl al-Bayt, Sudanese Mahdiyya, and Global Blackness as Islamic Revival
2. Heralds of the Reformer: Visions of Blackamerican Muslim History
3. "The Covenant Is Complete in Me": Nubian Islamic Hebraism and the Religion of Abraham
4. Between Zion and Mecca: Bilal as Islamic and Hebrew
5. The Sudan Is the Heart Chakra: The AAC/NIH as Sufi Tariqa
6. Islam Is Hotep: Ansar Egyptosophy
7. The Pyramidal Kaʿba: Malachi Z. York and the Nuwaubian Turn
8. Nuwaubian Ether: Ansar Legacies in Hip-Hop
Coda: The View from Illyuwn
Notes
Bibliography
Index
Mailing List
Subscribe to our mailing list and be notified about new titles, journals and catalogs.