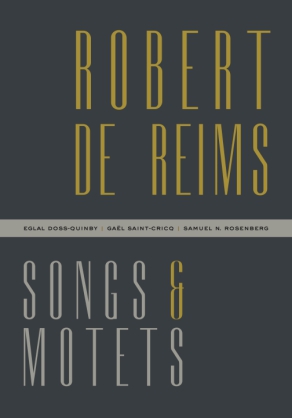 Robert de Reims
Songs and Motets
Robert de Reims, Edited, translated, and introduced by Eglal Doss-Quinby, Gaël Saint-Cricq, and Samuel N. Rosenberg
Buy
Robert de Reims
Songs and Motets
Robert de Reims, Edited, translated, and introduced by Eglal Doss-Quinby, Gaël Saint-Cricq, and Samuel N. Rosenberg
"This edition provides a treasure trove of information on the songs and motets of Robert de Reims as well as the textual and cultural contexts in which they survive. The editors' efforts provide tantalizing leads for further study."
Description

Reviews

Bio

Table of Contents

Sample Chapters

Subjects
Robert de Reims, also known as "La Chievre de Rains," was among the earliest trouvères—poet-composers who were contemporaries of the troubadours but who wrote in the dialects of northern France. This critical edition provides new translations into English and modern French of all the songs and motets ascribed to him, along with the original texts, the extant music, and a substantive introduction.
Active sometime between 1190 and 1220, Robert was an influential figure in the literary circles of Arras. Thirteen compositions set to music are here attributed to him, including nine chansons and four polyphonic motets that were broadly disseminated in the thirteenth century and beyond. Robert's work is exceptional on a number of fronts. He lavished particular care on the phonic harmony of his words. Acoustic luxuriance and expertise in rhyming, grounded in the play of echoes and variation (often extending into the music), constitute the hallmark of his poetry. Moreover, he is the earliest trouvère known to have composed a parodic sotte chanson contre Amours (silly song against Love).
Located clearly at the nexus of monophonic song and polyphony, Robert's corpus also poses the intriguing question of trouvère participation in the development of the polyphonic repertory. The case of Robert de Reims jostles and tempers the standard history of the chanson and motet.
Accessible and instructive, this trilingual critical edition of his complete works makes the oeuvre of this innovative and consequential trouvère available in one volume for the first time.
"This edition provides a treasure trove of information on the songs and motets of Robert de Reims as well as the textual and cultural contexts in which they survive. The editors' efforts provide tantalizing leads for further study."
"This edition merits high praise. Its inclusion of Robert's music, its juxtaposition of the motets and chansons, and its French and English translations ensure its value to a wide audience. It is a beautifully clear, detailed, and thorough edition that will be useful to Anglo- and Francophone scholars of literature and music alike."
"Active at the turn of the thirteenth century, Robert de Reims is the first trouvère to be involved with both monodic and polyphonic compositions, which makes this new edition of his work highly useful. The volume gives a very complete survey of the corpus and its transmission, of Robert's thematic choices and linguistic and versification options, as well as some elements concerning the analysis of the music."
"As a composer of motets as well as monophonic songs, Robert de Reims is the first known trouvère to cross the boundaries between the monophonic and polyphonic repertoires. As such, his corpus serves as a touchstone for our understanding of the musical culture that shaped the trouvères' predominantly monophonic musical language. The expert textual and musical transcriptions in this edition are enhanced by idiomatic and flowing translations into modern English and French."
"This edition, through its rigor and detailed content, proves indispensable to the medieval musicologists in search of studying, or discovering, the rich repertoire of Robert de Reims, an exceptional trouvère."
Eglal Doss-Quinby is a translator and literary scholar specializing in Old French songs and motets. She is Professor of French Studies at Smith College.
Gaël Saint-Cricq is a music scholar specializing in polyphony and song in the long thirteenth century. He is Maître de conférences at the Université de Rouen.
Samuel N. Rosenberg was a literary scholar and translator of French poetry of the Middle Ages and the nineteenth century. He was Professor Emeritus of French at Indiana University and the translator of Robert the Devil and Paul Verlaine: A Bilingual Selection of His Verse, both published by Penn State University Press.
Acknowledgments
List of Abbreviations
List of Manuscripts Cited
Introduction
Robert de Reims, dit La Chievre: What We Know, What We Can Surmise
The Corpus and Its Manuscript Tradition
Thematic Content
Language
Versification: Strophic Structures, Rhyme, and Other Phonic Echoes
Music and Text in the Works of Robert de Reims
Editorial Policy for the Texts and Translations
Editorial Policy for the Music
Presentation of the Critical Apparatus
Tables
Notes
Songs and Motets
1. Bien s'est Amors honie — Chanson
2. Plaindre m'estuet de la bele en chantant — Chanson
3. Qui bien veut Amors descrivre — Chanson à refrain
4a. Quant voi le douz tens venir — Chanson avec des refrains
4b. Qant voi le douz tens venir / (immo)latus — Motet
5a. L'autrier de jouste un rivage — Pastourelle
5b. L'autrier de jouste un rivage / domino quoniam — Motet
6. Touse de vile champestre — Pastourelle
7a. Quant fueillissent li buison — Chanson avec des refrains
7b. Quant florissent li buisson / domino quoniam — Motet
8a. Main s'est levee Aëliz — Chanson de rencontre
8b. Main s'est levee Aëlis / (mansuetudi)nem — Motet
9. Ja mais, por tant con l'ame el cors me bate — Sotte chanson contre Amours
Bibliography
Index of First Lines
Mailing List
Subscribe to our mailing list and be notified about new titles, journals and catalogs.