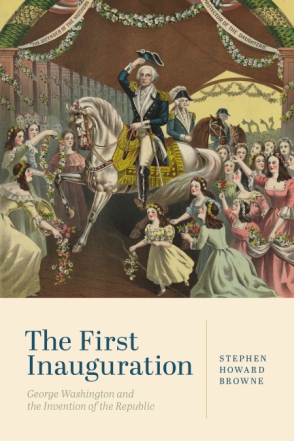 The First Inauguration
George Washington and the Invention of the Republic
Stephen Howard Browne
BUY
The First Inauguration
George Washington and the Invention of the Republic
Stephen Howard Browne
"Browne's analysis of Washington's address is superb. He succeeds admirably in showing how Americans performed and instantiated a dynamic, protean conception of nationhood."
Description

Reviews

Bio

Table of Contents

Sample Chapters

Subjects
"
Among the vicissitudes incident to life, no event could have filled me with greater anxieties than that of which the notification was transmitted by your order, and received on the fourteenth day of the present month."
With these words to the assembled members of the Senate and House of Representatives on April 30, 1789, George Washington inaugurated the American experiment. It was a momentous occasion and an immensely important moment for the nation. Never before had a people dared to invent a system of government quite like the one that Washington was preparing to lead, and the tensions between hope and skepticism ran high.

In this book, distinguished scholar of early America Stephen Howard Browne
chronicles the efforts of the first president of the United States of America to unite the nation through ceremony, celebrations, and oratory. The story follows Washington on his journey from Mount Vernon to the site of the inauguration in Manhattan, recounting the festivities—speeches, parades, dances, music, food, and flag-waving—that greeted the president-elect along the way. Considering the persuasive power of this procession, Browne captures in detail the
pageantry, anxiety, and spirit of the nation to arrive at a more nuanced and richly textured perspective on what it took to launch the modern republican state.
Compellingly written and artfully argued, The First Inauguration tells the story of the early republic—and of a president who, by his words and comportment, provides a model of leadership and democratic governance for today.
"Browne's analysis of Washington's address is superb. He succeeds admirably in showing how Americans performed and instantiated a dynamic, protean conception of nationhood."
"A very interesting topic. The idea of employing Washington's trip from Mount Vernon to New York City as a way of demonstrating his commitment to republicanism is inherently fascinating. So much has been written and published about Washington over the decades that it's hard to find a niche where something worthy of public attention has become available."
"There is much to praise in The First Inauguration, which uses detailed historical reconstruction of George Washington's journey to the first inauguration ceremony in New York and careful analysis of his inaugural address, as well as celebrations of the anniversary of those events, to draw conclusions about the creation of American identity, along with the development of American civil religion, American exceptionalism, and democratic rhetorical norms. Browne's writing is engaging, and his reconstruction of Washington's journey is impressive."
Stephen Howard Browne is Liberal Arts Professor of Communication Arts and Sciences at Penn State University. Learn more at www.stephenhbrowne.com.
Acknowledgements
Introduction
1. The Things He Carried with Him
2. On the Road to Philadelphia
3. Between Past and Future: Trenton & Beyond
4. His Excellency Arrives in New York City
5. Sacred Fire of Liberty: The First Inaugural Address
6. The Inauguration in American Memory
Epilogue
Notes
Bibliography
Index
Mailing List
Subscribe to our mailing list and be notified about new titles, journals and catalogs.