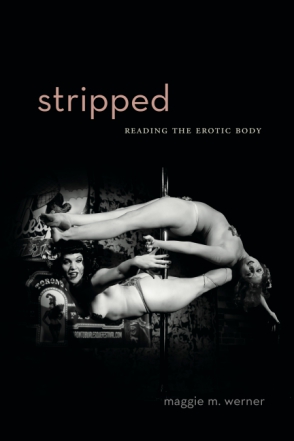 Stripped
Reading the Erotic Body
Maggie M. Werner
BUY
Stripped
Reading the Erotic Body
Maggie M. Werner
"Stripped is an admirable, frank, and at times deliberately fraught read of eroticized performance with the body. Maggie M. Werner's analysis is accompanied by frequent personal, auto-ethnographic interludes. This multimethodological approach to writing is refreshing to read."
Description

Reviews

Bio

Table of Contents

Sample Chapters

Subjects
Stripped
examines the ways in which erotic bodies communicate in performance and as cultural figures. Focusing on symbols independent of language, Maggie M. Werner explores the signs and signals of erotic dance, audience responses to these codes, and how this exchange creates embodied rhetoric.
Informed by her own ethnographic research conducted in strip clubs and theaters, Werner analyzes the movement, dress, and cosmetic choices of topless dancers and neo-burlesque performers. Drawing on critical methods of analysis, she develops approaches for interpreting embodied erotic rhetoric and the marginal cultural practices that construct women's public erotic bodies. She follows these bodies out into the streets—into the protest spaces where sex workers and anti-rape activists challenge discourses about morality and victimhood and struggle to remake their own identities. Throughout, Werner showcases the voices of these performers and in the analyses shares her experiences as an audience member, interviewer, and paying customer. The result is a uniquely personal and erudite study that advances conversations about women's agency and erotic performance, moving beyond the binary that views the erotic body as either oppressed or empowered.
Theoretically sophisticated and delightfully intimate, Stripped is an important contribution to the study of the rhetoric of the body and to rhetorical and performance studies more broadly.
"Stripped is an admirable, frank, and at times deliberately fraught read of eroticized performance with the body. Maggie M. Werner's analysis is accompanied by frequent personal, auto-ethnographic interludes. This multimethodological approach to writing is refreshing to read."
"Maggie M. Werner's Stripped manages to cover an embodied curriculum that is extremely relevant on and off North American campuses, where issues of bodily consent, control, agency, and expression should be central but have instead often been marginalized. The book is extremely well written, driven by personal vignettes and told through a series of public controversies. Werner successfully argues that embodied rhetoric is not just rhetoric about the body; it is also rhetoric from the body. Explicitly embodied rhetoric cannot exclude sexual behaviour."
Maggie M. Werner is Associate Professor of Writing and Rhetoric at Hobart and William Smith Colleges.
Acknowledgements
Introduction: Embodied Criticism of the Erotic Body
1. Deploying Delivery as Critical Method: Neo-Burlesque's Embodied Rhetoric
2. "You're Bound to Find Out She Don't Love You": Genre and the Erotic Body
3. The Pleasures of Process: Neo-burlesque's Seductive Rhetoric
4. "I am a woman. This is my body": Re-Articulating Identity in Sex-Work Activism
5. (Anti) Feminist Monsters: Alterity Rhetorics and the Signifying Body
Conclusion: Embodied Erotic Rhetoric's Acceptance and Rejection
Notes
Bibliography
Index
Mailing List
Subscribe to our mailing list and be notified about new titles, journals and catalogs.