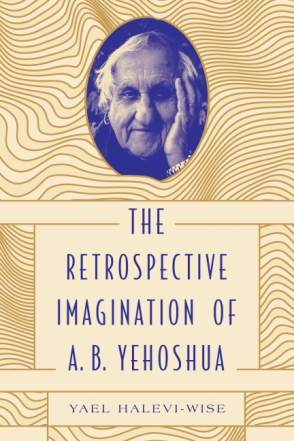 The Retrospective Imagination of A. B. Yehoshua
Yael Halevi-Wise
Buy
The Retrospective Imagination of A. B. Yehoshua
Yael Halevi-Wise
"For anyone looking to better understand the artistry of Yehoshua's fiction or to better decipher his novels' messages, this book is indispensable."
Description

Reviews

Bio

Table of Contents

Sample Chapters

Subjects
Once referred to by the
New York Times
as the "Israeli Faulkner," A. B. Yehoshua
's fiction invites an assessment of Israel's Jewish inheritance and the moral and political options that the country currently faces in the Middle East.
The Retrospective Imagination of A. B. Yehoshua
is an insightful overview of the fiction, nonfiction, and hundreds of critical responses to the work of Israel's leading novelist.
Instead of an exhaustive chronological-biographical account of Yehoshua's artistic growth, Yael Halevi-Wise calls for a systematic appreciation of the author's major themes and compositional patterns. Specifically, she argues for reading Yehoshua's novels as reflections on the "condition of Israel," constructed multifocally to engage four intersecting levels of signification: psychological, sociological, historical, and historiosophic. Each of the book's seven chapters employs a different interpretive method to showcase how Yehoshua's constructions of character psychology, social relations, national history, and historiosophic allusions to traditional Jewish symbols manifest themselves across his novels. The book ends with a playful dialogue in the style of Yehoshua's masterpiece, Mr. Mani, that interrogates his definition of Jewish identity.
Masterfully written, with full control of all the relevant materials, Halevi-Wise's assessment of Yehoshua will appeal to students and scholars of modern Jewish literature and Jewish studies.
"For anyone looking to better understand the artistry of Yehoshua's fiction or to better decipher his novels' messages, this book is indispensable."
"Halevi-Wise's pithy pronouncements are bound to educate and delight researcher and lay literature lover alike."
"This integrative volume presents a fine-grained analysis of Yehoshua's stance as a writer who targets historical and cultural dilemmas in Jewish and Israeli existence."
"[An] engaging thematic study of Yehoshua's work."
"Yael Halevi-Wise's book on A. B. Yehoshua is a useful, intelligent introduction to the fiction of arguably the most talented Israeli novelist."
"The work of A. B. Yehoshua—one of Israel's most important writers since the 1960s—has long merited a full, book-length study in English. Yael Halevi-Wise's book has the virtue of broad scope, including commentary on a range of works from Yehoshua's earliest writing up to his latest novel, from 2018. It offers an overview of his multilayered narrative techniques as well as chapters on a variety of themes and signature moves in his oeuvre."
Yael Halevi-Wise is Associate Professor and Chair of Jewish Studies at McGill University. She is the author of Interactive Fictions: Scenes of Storytelling in the Novel and the editor of Sephardism: Spanish Jewish History and the Modern Literary Imagination.
Contents
List of Maps
Preface
Acknowledgments
Note on Translation and Transliteration
1. Condition of Israel novels
2. Mapping Yehoshua's worldview
3. The watchman's stance
4. Vocation
5. Holidays
6. Names
7. Love under the burden of history
Coda: A playful conversation about Jewish identity with the author of Mr. Mani
Notes
Bibliography
Index
Mailing List
Subscribe to our mailing list and be notified about new titles, journals and catalogs.