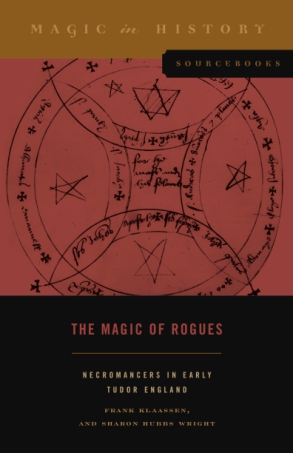 The Magic of Rogues
Necromancers in Early Tudor England
Frank Klaassen and Sharon Hubbs Wright
Buy
The Magic of Rogues
Necromancers in Early Tudor England
Frank Klaassen and Sharon Hubbs Wright
"This short scholarly study has two key virtues: it teases apart two muddled-up historiographies and unites two unnecessarily distanced ones. First, it clears a distinct space in the historical record for practitioners of magic, who as religious and legal deviants too often get absorbed into the academic discussion of witches and witch-trials. Secondly, it exploits the fact that 16th-century magical texts tell us little about the people who used them, while legal records of prosecution — magic was first criminalised under the 1542 Witchcraft Act — tell us a lot about the magicians but frustratingly little about the technicalities of their offences."
Description

Reviews

Bio

Table of Contents

Sample Chapters

Subjects
In 1510, nine men were tried in the Archbishop's Court in York for attempting to find and extract a treasure on the moor near Mixindale through necromantic magic. Two decades later, William Neville and his magician were arrested by Thomas Cromwell for having engaged in a treasonous combination of magic practices and prophecy surrounding the death of William's older brother, Lord Latimer, and the king.
In The Magic of Rogues, Frank Klaassen and Sharon Hubbs Wright present the legal documents about and open a window onto these fascinating investigations of magic practitioners in early Tudor England. Set side by side with sixteenth- and seventeenth-century texts that describe the sorts of magic those practitioners performed, these documents are translated, contextualized, and presented in language accessible to nonspecialist readers. Their analysis reveals how magicians and cunning folk operated in extended networks in which they exchanged knowledge, manuscripts, equipment, and even clients; foregrounds magicians' encounters with authority in ways that separate them from traditional narratives about witchcraft and witch trials; and suggests that the regulation and punishment of magic in the Tudor period were comparatively and perhaps surprisingly gentle. Incorporating the study of both intellectual and legal sources, The Magic of Rogues presents a well-rounded picture of illicit learned magic in early Tudor England.
Engaging and accessible, this book will appeal to anyone seeking to understand the intersection of medieval legal history, religion, magic, esotericism, and Tudor history.
"This short scholarly study has two key virtues: it teases apart two muddled-up historiographies and unites two unnecessarily distanced ones. First, it clears a distinct space in the historical record for practitioners of magic, who as religious and legal deviants too often get absorbed into the academic discussion of witches and witch-trials. Secondly, it exploits the fact that 16th-century magical texts tell us little about the people who used them, while legal records of prosecution — magic was first criminalised under the 1542 Witchcraft Act — tell us a lot about the magicians but frustratingly little about the technicalities of their offences."
"With its innovative combination of magical texts and legal documents, this is an important research contribution and offers an excellent set of annotated sources for teaching not just about magic but also about power, belief, and ambition in Tudor England."
"The Magic of Rogues undoubtedly enhances our understanding of early Tudor magic, reinforced by a general introduction to the nature of magic in the period and its relationship with the authorities."
"Klaassen and Wright deftly lay bare the mechanics of both the prosecution and the practice of the most transgressive forms of magic on the eve of the Reformation. The Magic of Rogues will be essential reading for anyone interested in the social or legal history of supernatural belief in the early modern world."
Frank Klaassen is Professor of History at the University of Saskatchewan. He is the author of Making Magic in Elizabethan England: Two Early Modern Vernacular Books of Magic and the award-winning The Transformations of Magic: Illicit Learned Magic in the Later Middle Ages and Renaissance, both published by Penn State University Press.
Sharon Hubbs Wright is Associate Professor of History at St. Thomas More College, University of Saskatchewan. She has published numerous articles on late medieval social and legal history.
Acknowledgements
General Introduction
Part 1: Magic and the Secular Authorities
1. William Neville and His Magicians: The Legal Documents
2. Power, Knowledge, and Influence: The Magic Texts
Part 2: Magic and Ecclesiastical Authorities
3. The Fellowship of the Mixindale Hoard: The Legal Documents
4. Treasure Hunting: The Magic Texts
Conclusion
Bibliography
Index
Mailing List
Subscribe to our mailing list and be notified about new titles, journals and catalogs.