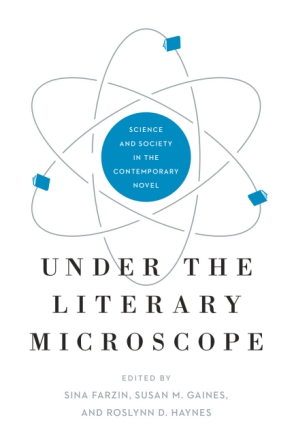 Under the Literary Microscope
Science and Society in the Contemporary Novel
Edited by Sina Farzin, Susan M. Gaines, and Roslynn D. Haynes
Buy
Under the Literary Microscope
Science and Society in the Contemporary Novel
Edited by Sina Farzin, Susan M. Gaines, and Roslynn D. Haynes
"By examining the creative space opened up by science novels, the book helps, in turn, to open up and establish an interdisciplinary space. Under the Literary Microscope is both an introduction and a valuable contribution to the study of the relationship between science, society and fiction."
Description

Reviews

Bio

Table of Contents

Sample Chapters

Subjects
"Science in fiction," "geek novels," "lab-lit"—whatever one calls them, a new generation of science novels has opened a space in which the reading public can experience and think about the powers of science to illuminate nature as well as to generate and mitigate social change and risks.
Under the Literary Microscope
examines the implications of the discourse taking place in and around this creative space.
Exploring works by authors as disparate as Barbara Kingsolver, Richard Powers, Ian McEwan, Ann Patchett, Margaret Atwood, and Michael Crichton, these essays address the economization of scientific institutions; ethics, risk, and gender disparity in scientific work; the reshaping of old stereotypes of scientists; science in an evolving sci-fi genre; and reader reception and potential contributions of the novels to public understandings of science.
Under the Literary Microscope illuminates the new ways in which fiction has been grappling with scientific issues—from climate change and pandemics to artificial intelligence and genomics—and makes a valuable addition to both contemporary literature and science studies courses.
In addition to the editors, the contributors include Anna Auguscik, Jay Clayton, Carol Colatrella, Sonja Fücker, Raymond Haynes, Luz María Hernández Nieto, Emanuel Herold, Karin Hoepker, Anton Kirchhofer, Antje Kley, Natalie Roxburgh, Uwe Schimank, Sherryl Vint, and Peter Weingart.
"By examining the creative space opened up by science novels, the book helps, in turn, to open up and establish an interdisciplinary space. Under the Literary Microscope is both an introduction and a valuable contribution to the study of the relationship between science, society and fiction."
"This lively collection is valuable for its placement of literary criticism alongside scholarship on public engagement with science. It grants to authors a more nuanced understanding of the various dimensions of scientific personnel and practice than critics have previously acknowledged, and it offers such texts as spaces where the reading public can engage with questions concerning the nature of science."
Sina Farzin is Professor of Sociology at Bundeswehr University Munich. Her research focuses on social exclusion and the sociology of culture and literature.
Susan M. Gaines is Writer in Residence and founder of the Fiction Meets Science Program at the University of Bremen. Her books include the novels Accidentals and Carbon Dreams.
Roslynn D. Haynes is Fellow of the Australian Academy of the Humanities. Her most recent books are From Madman to Crime Fighter: The Scientist in Western Culture and Desert: Nature and Culture.
Introduction: Science Under the Literary Microscope
Susan M. Gaines, Sina Farzin, and Roslynn D. Haynes
Part 1 Background and Context
Sience and Society in Recent Fiction
Natalie Roxburgh and Jay Clayton
From Individual to Collective Knowledge Production: A Brief Nonfiction History
Peter Weingart and Luz María Hernández Nieto
Between Mad and Mundane: Mixed Stereotypical and Realistic Portrayals of Sience in Contemporary Fiction Media
Luz María Hernández Nieto and Peter Weingart
Part 2 Embedded Science: Societal Impacts on Scientific Work and Knowledge
Scientists at Risk
Roslynn D. Haynes and Raymond Haynes
Speculative Fiction and the Significance of Plausibility: Dystopian Science in the Critical Response to Margaret Atwood's Oryx and Crake
Anna Auguscik, Sina Farzin, Emanuel Herold, and Anton Kirchhofer
When the Scientist Is a Woman: Novels and Feminist Science Studies
Carol Colatrella
Economization of Science: Insights from Science Novels
Uwe Schimank
Part 3 Cause and Effect? Science and Its Societal Outcomes
The Science Fiction of Technological Modernity: Images of Science in Recent Science Fiction
Sherryl Vint
Unruly Creatures, Obstinate Things: Bio-Objects and Scientific Knowledge Production in Contemporary Science Fiction
Karin Hoepker and Antje Kley
A Fictional Risk Narrative and Its Potential for Social Resonance: Reception of Barbara Kingsolver's Flight Behavior in Reviews and Reading Groups
Sonja Fücker, Anna Auguscik, Anton Kirchhofer, and Uwe Schimank
List of Contributors
Index
Mailing List
Subscribe to our mailing list and be notified about new titles, journals and catalogs.