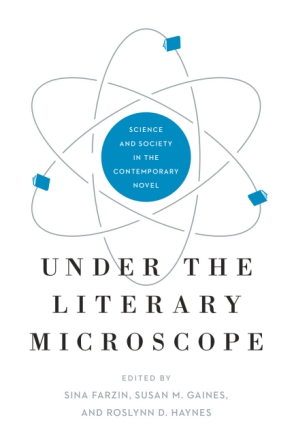 Under the Literary Microscope
Science and Society in the Contemporary Novel
Edited by Sina Farzin, Susan M. Gaines, and Roslynn D. Haynes
COMING IN MAY
Under the Literary Microscope
Science and Society in the Contemporary Novel
Edited by Sina Farzin, Susan M. Gaines, and Roslynn D. Haynes
"This lively collection is valuable for its placement of literary criticism alongside scholarship on public engagement with science. It grants to authors a more nuanced understanding of the various dimensions of scientific personnel and practice than critics have previously acknowledged, and it offers such texts as spaces where the reading public can engage with questions concerning the nature of science."
Description

Reviews

Bio

Subjects
"Science in
fiction," "geek novels," "lab-lit"—whatever one calls them, novels about science open a creative space in which the reading public can experience and think critically about the powers of science to illuminate and transform nature and to create and mitigate social risks. The essays in
Under the Literary Microscope
examine the sociological and literary implications of the discourse taking place in and around this space, focusing on the interactions between processes of knowledge formation and the socioeconomic and political spheres.
The past few decades have seen a proliferation of novels about science in anglophone literature that move beyond the stereotypes that dominated portrayals of science throughout most of the twentieth century. Exploring the work of novelists such as Barbara Kingsolver, Richard Powers, Ian McEwan, Ann Patchett, Allegra Goodman, and Karen Joy Fowler, the contributors to this volume discuss the most prevalent scientific and social themes in new fiction about science; how the novel's intrinsic formal features allow for the interweaving of conflicting social and scientific discourses; and fiction's responses to contemporary issues in science and technology, such as artificial intelligence, genomics, and climate change.
Perfectly structured for use in classes on science in literature, Under the Literary Microscope sheds light on and opens new avenues of inquiry into the intersections of science and society, science communication, and science education.
In addition to the editors, the contributors include Anna Auguscik, Jay Clayton, Carol Colatrella, Sonja Fücker, Raymond Haynes, Luz María Hernández Nieto, Emanuel Herold, Karin Hoepker, Anton Kirchhofer, Antje Kley, Natalie Roxburgh, Uwe Schimank, Sherryl Vint, and Peter Weingart.
"This lively collection is valuable for its placement of literary criticism alongside scholarship on public engagement with science. It grants to authors a more nuanced understanding of the various dimensions of scientific personnel and practice than critics have previously acknowledged, and it offers such texts as spaces where the reading public can engage with questions concerning the nature of science."
Sina Farzin is Professor of Sociology and Sociological Theory at Bundeswehr University Munich.
Susan M. Gaines is the author of the novels Accidentals and Carbon Dreams and of the science narrative Echoes of Life: What Fossil Molecules Reveal About Earth History. She is Founding Director of the Fiction Meets Science Program and Writer in Residence at the University of Bremen.
Roslynn D. Haynes is Fellow of the Australian Academy of the Humanities and Adjunct Associate Professor in the School of Arts and Media, University of New South Wales.
Mailing List
Subscribe to our mailing list and be notified about new titles, journals and catalogs.