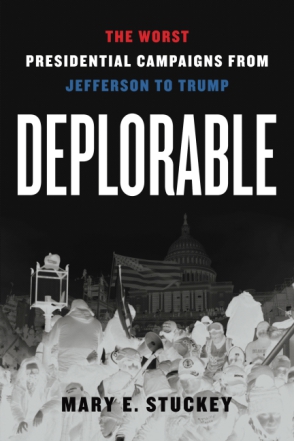 Deplorable
The Worst Presidential Campaigns from Jefferson to Trump
Mary E. Stuckey
Buy
Deplorable
The Worst Presidential Campaigns from Jefferson to Trump
Mary E. Stuckey
"Deplorable seeks to understand why some presidential campaigns represent the worst American politics has to offer. These elections, Stuckey argues, do not employ traditional discourse to distinguish between issues, parties, and candidates. Instead, deplorable elections tap into fears, arising primarily from race and inequality. Stuckey brilliantly identifies when and how discourse degenerates to despicable and campaigns deteriorate to deplorable. I highly recommend her exquisitely written, lush, and lyrical exploration of these critical elections."
Description

Reviews

Bio

Table of Contents

Sample Chapters

Subjects
Political campaigns in the United States, especially those for the presidency, can be nasty—very nasty. And while we would like to believe that the 2020 election was an aberration, insults, invective, and yes, even violence have characterized US electoral politics since the republic's early days. By examining the political discourse around nine particularly deplorable elections, Mary E. Stuckey seeks to explain why.
From the contest that pitted Thomas Jefferson against John Adams in 1800 through 2020's vicious, chaotic matchup between Donald Trump and Joe Biden, Stuckey documents the cycle of despicable discourse in presidential campaigns. Looking beyond the character and the ideology of the candidates, Stuckey explores the broader political, economic, and cultural milieus in which each took place. In doing so, she reveals the conditions that exacerbate and enable our worst political instincts, producing discourses that incite factions, target members of the polity, encourage undemocratic policy, and actively work against the national democratic project.
Keenly analytical and compulsively readable, Deplorable provides context for the 2016 and 2020 elections, revealing them as part of a cyclical—and perhaps downward-spiraling—pattern in American politics. Deplorable offers more than a comparison of the worst of our elections. It helps us understand these shameful and disappointing moments in our political history, leaving one important question: Can we avoid them in the future?
"Deplorable seeks to understand why some presidential campaigns represent the worst American politics has to offer. These elections, Stuckey argues, do not employ traditional discourse to distinguish between issues, parties, and candidates. Instead, deplorable elections tap into fears, arising primarily from race and inequality. Stuckey brilliantly identifies when and how discourse degenerates to despicable and campaigns deteriorate to deplorable. I highly recommend her exquisitely written, lush, and lyrical exploration of these critical elections."
"What just happened? And has anything like it happened before? For readers asking such questions after recent US presidential elections, Deplorable offers plenty to ponder. Distinguished presidential scholar Mary Stuckey tracks campaign discourse from Jefferson to Trump, highlighting election seasons that were especially unstable, economically arduous, and fraught with racial tension. This book will instruct, provoke, and challenge Americans who are ready to reckon with history and plan a better way forward."
"Stuckey's careful description and analysis of selected campaigns sustains a provocative narrative with significant import for our democracy. Her treatment of Donald Trump's election campaigns is a must read."
Mary E. Stuckey is Edwin Erle Sparks Professor of Communication at Penn State University. She is the author of eleven books, including Voting Deliberatively: FDR and the 1936 Presidential Campaign, also published by Penn State University Press.
Acknowledgements
Introduction
1. Creating Citizenship in a Republic, 1800/1840/1852
2. Looking Backward During the Nation's Centennial, 1876
3. Introducing the Politics of Fear to the Twentieth Century, 1924
4. The Veneer of Civility: The Subtle Politics of Racism, 1968
5. The Southern Strategy Goes Bipartisan, 1992
6. It Doesn't Get More Deplorable Than This, 2016
Afterword: Or Maybe It Does—A Few Words About 2020
Notes
Bibliography
Index
Mailing List
Subscribe to our mailing list and be notified about new titles, journals and catalogs.