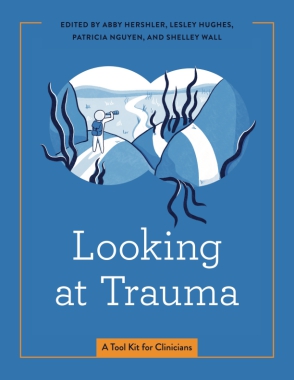 Looking at Trauma
A Tool Kit for Clinicians
Edited by Abby Hershler, Lesley Hughes, Patricia Nguyen, and Shelley Wall
Buy
Looking at Trauma
A Tool Kit for Clinicians
Edited by Abby Hershler, Lesley Hughes, Patricia Nguyen, and Shelley Wall
"In Looking at Trauma, the authors share invaluable experiential knowledge gained through their work with trauma survivors, while also synthesizing denser preceding works on trauma therapy and recovery. The result is a manageable and informative tool kit for service providers and educators."
Media

Description

Reviews

Bio

Subjects
Watch "PSU Press Presents: Comics, Clinics, and Public Health," a virtual author event hosted by the Press on June 3rd, 2022 with Lesley Hughes and Patricia Nguyen, co-authors of
Looking at Trauma: A Tool Kit for Clinicians
; Meredith Li-Vollmer, author of
Graphic Public Health: A Comics Anthology and Road Map
; and Kimberly R. Myers, Molly L. Osborne, and Charlotte A. Wu, authors of
Clinical Ethics: A Graphic Medicine Casebook
:
Looking at Trauma: A Tool Kit for Clinicians
is an easy-to-use, engaging resource designed to address the challenges health care professionals face in providing much-needed trauma psychoeducation to clients with histories of childhood trauma. Developed by trauma therapists Abby Hershler and Lesley Hughes in collaboration with artist Patricia Nguyen and biomedical communications specialist Shelley Wall, this book presents twelve trauma treatment models accompanied by innovative and engaging comics. The models help clinicians provide practical information about the impacts of trauma to their clients—and support those clients in understanding and managing their distressing symptoms.
Topics covered include complex posttraumatic stress disorder, emotion regulation, memory, relationship patterns, and self-care. Each chapter features step-by-step instructions on how to use the treatment models with clients; practical educational tips from experienced clinicians in the field of childhood trauma; interactive trauma education comics; a foundational framework focused on care for the provider; and references for further study.
Intended for use in therapeutic, clinical, and classroom settings, this book is a valuable resource for all healthcare workers. In particular, social workers, psychotherapists, spiritual care providers, nurses, occupational therapists, psychologists, primary care physicians, and psychiatrists will find this tool kit indispensable.
"In Looking at Trauma, the authors share invaluable experiential knowledge gained through their work with trauma survivors, while also synthesizing denser preceding works on trauma therapy and recovery. The result is a manageable and informative tool kit for service providers and educators."
"What distinguishes Looking at Trauma from other books are the wonderful comics that present psychoeducational information about trauma in an easily accessible way. The images can help clients understand their responses to overwhelming events, empowering them to continue the self-reflection necessary for healing. In this way, the pictures and words serve as co-therapists, making the clinician's job a little bit lighter!"
Abby Hershler (MD, MA, FRCPC) is a psychiatrist and Assistant Professor in the Department of Psychiatry at the University of Toronto. She is a Fellow of the Royal College of Physicians and Surgeons of Canada.
Lesley Hughes (MSW, RSW) is a registered social worker with an Adjunct Lecturer appointment at the Factor-Inwentash Faculty of Social Work.
Patricia Nguyen (BScKin, MScBMC) is a medical illustrator who studied in the Biomedical Communications program at the University of Toronto.
Shelley Wall (AOCAD, MScBMC, PhD) is Associate Professor in the Biomedical Communications graduate program at the University of Toronto.
Mailing List
Subscribe to our mailing list and be notified about new titles, journals and catalogs.