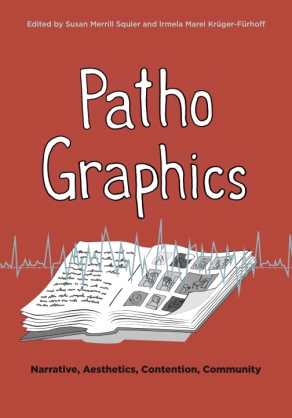 PathoGraphics
Narrative, Aesthetics, Contention, Community
Edited by Susan Merrill Squier and Irmela Marei Krüger-Fürhoff
Buy
PathoGraphics
Narrative, Aesthetics, Contention, Community
Edited by Susan Merrill Squier and Irmela Marei Krüger-Fürhoff
"This multidisciplinary collection of essays examines textual and graphic representations of illness, disability, and pain, describing how the narratives in question use the aesthetics of their medium to embrace contention and community. The authors reclaim ground previously ceded to traditional paradigms and in the process liberate the mind, the body, and the text."
Media

Description

Reviews

Bio

Table of Contents

Subjects
Chapter 7, "Crafting Psychiatric Contention Through Single-Panel Cartoons," by Helen Spandler, is available as Open Access courtesy of a grant from the Wellcome Trust.

This work is licensed under a Creative Commons Attribution 4.0 International License.
Culturally powerful ideas of normalcy and deviation, individual responsibility, and what is medically feasible shape the ways in which we live with illness and disability. The essays in this volume show how illness narratives expressed in a variety of forms—biographical essays, fictional texts, cartoons, graphic novels, and comics—reflect on and grapple with the fact that these human experiences are socially embedded and culturally shaped.
Works of fiction addressing the impact of an illness or disability; autobiographies and memoirs exploring an experience of medical treatment; and comics that portray illness or disability from the perspective of patient, family member, or caregiver: all of these narratives forge a specific aesthetic in order to communicate their understanding of the human condition. This collection demonstrates what can emerge when scholars and artists interested in fiction, life-writing, and comics collaborate to explore how various media portray illness, medical treatment, and disability. Rather than stopping at the limits of genre or medium, the essays talk across fields, exploring together how works in these different forms craft narratives and aesthetics to negotiate contention and build community around those experiences and to discover how the knowledge and experiences of illness and disability circulate within the realms of medicine, art, the personal, and the cultural. Ultimately, they demonstrate a common purpose: to examine the ways comics and literary texts build an audience and galvanize not just empathy but also action.
In addition to the editors, the contributors to this volume include Einat Avrahami, Maureen Burdock, Elizabeth J. Donaldson, Ariela Freedman, Rieke Jordan, stef lenk, Leah Misemer, Tahneer Oksman, Nina Schmidt, and Helen Spandler.
Chapter 7, "Crafting Psychiatric Contention Through Single-Panel Cartoons," by Helen Spandler, is available as Open Access courtesy of a grant from the Wellcome Trust. A link to the OA version of this chapter is forthcoming.
"This multidisciplinary collection of essays examines textual and graphic representations of illness, disability, and pain, describing how the narratives in question use the aesthetics of their medium to embrace contention and community. The authors reclaim ground previously ceded to traditional paradigms and in the process liberate the mind, the body, and the text."
"PathoGraphics advances discussions about how to read, visualize, and create comics about illness and disability in complex and welcome ways. The contributors are extremely well informed about the fields from which the book draws: narrative medicine, literary studies, disability studies, comics studies, and graphic medicine. PathoGraphics engagingly shows how these fields can mutually constitute new knowledge when creative practices, intersecting with illness and disability narratives, create a site for artistic innovation with a social justice bent."
Susan Merrill Squier is Julia Gregg Brill Professor Emerita of English and Women's, Gender, and Sexuality Studies at Penn State University, a founding member of the Graphic Medicine Collective, Coeditor of the Graphic Medicine Series, and Einstein Visiting Fellow of the 2016–21 PathoGraphics Research Project. Her publications include Graphic Medicine Manifesto, also published by Penn State University Press.
Irmela Marei Krüger-Fürhoff is Professor of German Literature at Freie Universität Berlin and academic lead of the 2016–2021 PathoGraphics research project.
Introduction
Susan Merrill Squier and Irmela Marei Krüger-Fürhoff
1. The Reflecting Physician
Einat Avrahami
2. Assembling a Shared Life in Anders Nilsen's Don't Go Where I Can't Follow
Tahneer Oksman
3. Ways of Looking: Reading PathoGraphics
Nina Schmidt
4. The Comics Pain Scale and Comics About Pain
Ariela Freedman
5. The Tightrope to Equilibrium: Parkinson's Disease in Literature and Comics
Irmela Marei Krüger-Fürhoff
6. Her Leg": Chris Ware's Body of Work
Rieke Jordan
7. Crafting Psychiatric Contention Through Single-Panel Cartoons
Helen Spandler
8. Subverting Stigma: Community Building in Serial Comics
Leah Misemer
9. Psychosis Blues: Schizophrenia, Comics, and Collaboration
Elizabeth J. Donaldson
10. The Quickening
stef lenk
11. Interview with stef lenk on The Quickening
Irmela Marei Krüger-Fürhoff and Susan Merrill Squier
12. Desire Paths: PathoGraphics and Transgenerational Trauma
Maureen Burdock
13. Scaling Graphic Medicine: The Porous Pathography, a New Kind of Illness Narrative
Susan Merrill Squier
List of Contributors
Index
Mailing List
Subscribe to our mailing list and be notified about new titles, journals and catalogs.