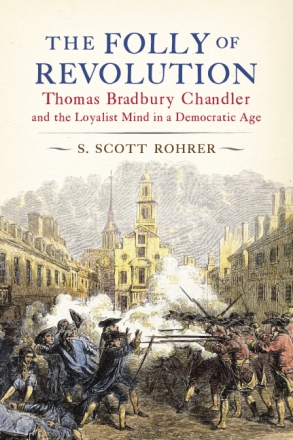 The Folly of Revolution
Thomas Bradbury Chandler and the Loyalist Mind in a Democratic Age
S. Scott Rohrer
BUY
The Folly of Revolution
Thomas Bradbury Chandler and the Loyalist Mind in a Democratic Age
S. Scott Rohrer
"An intriguing contribution to a thriving literature on religion and the American Revolution, as well as on the diversity of political sentiments present in the colonial and Revolutionary eras. The Folly of Revolution reflects a creative reading of the influences on a significant religious figure, Anglican Thomas Bradbury Chandler, and in many places, it presents insightful new readings of well-known sources."
Description

Reviews

Bio

Table of Contents

Sample Chapters

Subjects
In this penetrating biography of Thomas Bradbury Chandler, S. Scott Rohrer takes readers deep into the intellectual world of a leading loyalist who defended monarchy, rejected rebellion and democracy, and opposed the American Revolution.
Talented, hardworking, and erudite, this Anglican minister from New Jersey possessed one of the Church of England's most outstanding minds. Chandler was an Anglican leader in the 1760s and a key strategist in the effort to strengthen the American church in the years preceding the Revolution. He headed the campaign to create an Anglican bishopric in America—a cause that helped inflame tensions with American radicals unhappy with British policies. And, in the 1770s, his writings provided some of the most trenchant criticisms of the American revolutionary movement, raising fundamental questions about obedience, subordination, and rebellion that undercut Whig assertions about republicanism and popular control. Working from Chandler's library catalog and other primary sources, Rohrer digs into Chandler's political and religious beliefs, exploring their origins and the events in British history that shaped them.
An intriguing and thoughtful reappraisal of a consequential figure in early American history, this biography will captivate students, scholars, and lay readers interested in politics and religion in Revolutionary-era America.
"An intriguing contribution to a thriving literature on religion and the American Revolution, as well as on the diversity of political sentiments present in the colonial and Revolutionary eras. The Folly of Revolution reflects a creative reading of the influences on a significant religious figure, Anglican Thomas Bradbury Chandler, and in many places, it presents insightful new readings of well-known sources."
"Thoroughly researched, The Folly of Revolution makes Thomas Bradbury Chandler and the intellectual world of this prominent loyalist more understandable. Rohrer complicates our understanding of the uses of English history by loyalists, and this study of Chandler is unique in recognizing the significance of non-juror arguments from the Glorious Revolution as foundational to his thinking about the right to rebellion."
S. Scott Rohrer is a social historian and the author of several books, including Jacob Green's Revolution: Radical Religion and Reform in a Revolutionary Age, also published by Penn State University Press. His website can be found at scottrohrer.net.
List of Illustrations
Acknowledgements
Introduction: Authority and Obedience in Revolutionary America
1. Disciple: Thomas Bradbury Chandler, Samuel Johnson, and the Making of a High Church Royalist
2. Englishman: Church and State in a Chandlerian World
3. Time Traveler: The Glorious Revolution and the High Church Cause
4. Episcopalian: Chandler and the Bishop's Cause
5. Warrior: The Fight for an American Episcopate
6. Loyalist: The Defense of British Authority
7. Londoner: A Loyalist in Exile
Epilogue: A Royalist in a Revolutionary World
Appendix: The Library of Thomas Bradbury Chandler
Notes
Bibliography
Index
Mailing List
Subscribe to our mailing list and be notified about new titles, journals and catalogs.