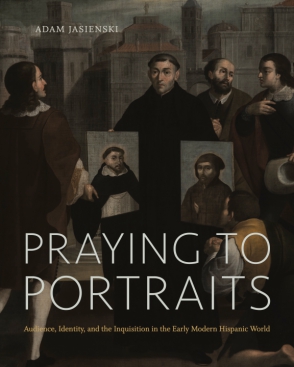 Praying to Portraits
Audience, Identity, and the Inquisition in the Early Modern Hispanic World
Adam Jasienski
Buy
Praying to Portraits
Audience, Identity, and the Inquisition in the Early Modern Hispanic World
Adam Jasienski
"This brilliantly original book illuminates the relationship, long debated by scholars, between portraiture and religious images in early modern Spain and its empire. Throughout, Jasienski engages an impressively wide range of texts, whether writings on naturalism in portraiture, treatises on God-given royal power, or Inquisitorial condemnations of idolatrous devotion to portraits. Praying to Portraits is a book of great interpretive breadth and depth, and it makes a major contribution to our understanding of the visual culture of the Spanish world."
Description

Reviews

Bio

Table of Contents

Sample Chapters

Subjects
In
Praying to Portraits,
art historian Adam Jasienski examines the history, meaning, and cultural significance of a crucial image type in the early modern Hispanic world: the sacred portrait.
Across early modern Spain and Latin America, people prayed to portraits. They prayed to "true" effigies of saints, to simple portraits that were repainted as devotional objects, and even to images of living sitters depicted as holy figures. Jasienski places these difficult-to-classify image types within their historical context. He shows that rather than being harbingers of secular modernity and autonomous selfhood, portraits were privileged sites for mediating an individual's relationship to the divine. Using Inquisition records, hagiographies, art-theoretical treatises, poems, and plays, Jasienski convincingly demonstrates that portraiture was at the very center of broader debates about the status of images in Spain and its colonies.
Highly original and persuasive, Praying to Portraits profoundly revises our understanding of early modern portraiture. It will intrigue art historians across geographical boundaries, and it will also find an audience among scholars of architecture, history, and religion in the early modern Hispanic world.
"This brilliantly original book illuminates the relationship, long debated by scholars, between portraiture and religious images in early modern Spain and its empire. Throughout, Jasienski engages an impressively wide range of texts, whether writings on naturalism in portraiture, treatises on God-given royal power, or Inquisitorial condemnations of idolatrous devotion to portraits. Praying to Portraits is a book of great interpretive breadth and depth, and it makes a major contribution to our understanding of the visual culture of the Spanish world."
Adam Jasienski is Associate Professor of Art History in the Meadows School of the Arts at Southern Methodist University in Dallas, Texas.
List of Illustrations
Acknowledgements
List of Abbreviations
Introduction: Portraits and Sacred Images in Early Modernity
1. Sacrificing the Self
2. True Portraits, Lying Portraits
3. Repainting Portraits
4. Portraits as Sacred Images
Conclusion: The Life Histories of Sacred Portraits and the History of Sacred Portraiture
Notes
Bibliography
Index
Mailing List
Subscribe to our mailing list and be notified about new titles, journals and catalogs.