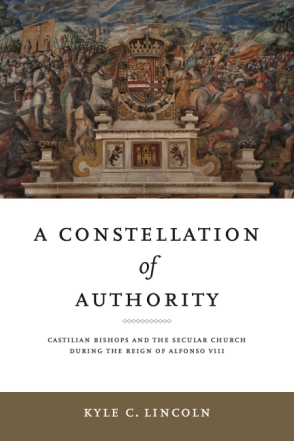 A Constellation of Authority
Castilian Bishops and the Secular Church During the Reign of Alfonso VIII
Kyle C. Lincoln
BUY
A Constellation of Authority
Castilian Bishops and the Secular Church During the Reign of Alfonso VIII
Kyle C. Lincoln
"As a work of Iberian ecclesiastical history, A Constellation of Authority participates in the vigorous scholarly conversation of the last few decades. As a study of the twelfth-century Castilian episcopate, it is wholly original—its painstaking archival research has uncovered previously unknown documentary evidence."
Description

Reviews

Bio

Subjects
During the long reign of Alfonso VIII, Castilian bishops were crusaders, castellans, cathedral canons, and collegiate officers, and they served as powerful intermediaries between the pope and the king of Castile. In
A Constellation of Authority,
Kyle C. Lincoln traces the careers of a septet of these bishops and uses this history to fill in much of what really happened in thirteenth-century Castile.
The relationships that local prelates cultivated with Alfonso VIII and the Castilian royal family existed in tension with how they related to the reigning pope. Drawing on diocesan archives, monastic collections, and chronicles, Lincoln reconstructs the complex negotiations and navigations these bishops undertook to maintain the balance among the papal and royal agendas and their own interests. Lincoln examines the bishops' ties to crusades and political influence, the growth of canon and Roman law, religious and church reform, and the canonization of local leaders. In the process, he makes the case that the medieval past is best illuminated by the combined luminescence of a "constellation of authority" represented, at least in part, by a conglomerate of bishops.
Through seven case studies, each examining a prelate in his individual historical context, A Constellation of Authority improves our understanding of the politics of thirteenth-century Castile and provides an important foundation for further consideration of the ties between Castile and the broader European medieval world. It will appeal to medieval Hispanists and historians of the medieval church and episcopacy.
"As a work of Iberian ecclesiastical history, A Constellation of Authority participates in the vigorous scholarly conversation of the last few decades. As a study of the twelfth-century Castilian episcopate, it is wholly original—its painstaking archival research has uncovered previously unknown documentary evidence."
Kyle C. Lincoln is Assistant Professor of Pre-Modern European History and Interdisciplinary Humanities at Southeastern Oklahoma State University. He is coauthor of The Remaking of the Medieval World, 1204 and coeditor of King Alfonso VIII of Castile: Government, Family, and War.
Mailing List
Subscribe to our mailing list and be notified about new titles, journals and catalogs.