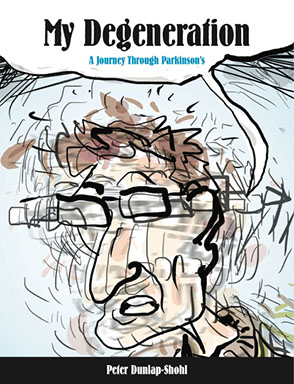 My Degeneration
A Journey Through Parkinson's
Peter Dunlap-Shohl
BUY
My Degeneration
A Journey Through Parkinson's
Peter Dunlap-Shohl
"[An] emotionally resonant memoir."
Media

Description

Reviews

Bio

Table of Contents

Subjects
How does one deal with a diagnosis of Parkinson's disease at the age of forty-three?
My Degeneration
, by former
Anchorage Daily News
staff cartoonist Peter Dunlap-Shohl, answers the question with humor and passion, recounting the author's attempt to come to grips with the "malicious whimsy" of this chronic, progressive, and disabling disease. This graphic novel tracks Dunlap-Shohl's journey through depression, the worsening symptoms of the disease, the juggling of medications and their side effects, the impact on relations with family and community, and the raft of mental and physical changes wrought by the malady.
My Degeneration examines the current state of Parkinson's care, including doctor/patient relations and the repercussions of a disease that, among other things, impairs movement, can rob patients of their ability to speak or write, degrades sufferers' ability to deal with complexity, and interferes with the sense of balance. Readers learn what it's like to undergo a dramatic, demanding, and audacious bit of high-tech brain surgery that can mysteriously restore much of a patient's control over symptoms. But My Degeneration is more than a Parkinson's memoir. Dunlap-Shohl gives the person newly diagnosed with Parkinson's disease the information necessary to cope with it on a day-to-day basis. He chronicles the changes that life with the disease can bring to the way one sees the world and the way one is seen by the wider community. Dunlap-Shohl imparts a realistic basis for hope—hope not only to carry on, but to enjoy a decent quality of life.
"[An] emotionally resonant memoir."
"Peter Dunlap-Shohl's My Degeneration is . . . a model of how to fill a particular niche. . . . In one of the funniest segments, Dunlap-Shohl presents a series of drawings of bad doctors: 'the gimlet-eyed skeptic' who accuses her patient of making up his symptoms, the 'cheery prophet' who forecasts inevitable physical decline, 'the blithe know-it-all,' and several more. For patients, these irreverent archetypes validate their experiences. Clinicians, too, stand to gain a better appreciation of how they might appear to their patients."
"My Degeneration opens up a powerful new purpose for comics—as an effective tool to educate doctors, patients, and others about both the clinical and the personal sides of living with a disease. This book should be required reading for any specialist."
"Going beyond patient-education booklets, Dunlap-Shohl's journey of setbacks and triumphs contextualizes key disease information within a narrative suffused with emotion and wry humor. [Parkinson's disease] patients, families, and caregivers will find it valuable; those who enjoy memoirs will appreciate its compelling real-life drama."
"[My Degeneration] is in many ways what I would describe as the very model of a graphic medicine book: perfectly balancing . . . the educational and the autobiographical, the clinical and the personal."
"We learn basic facts and so much more from Dunlap-Shohl's honest and honestly engaging account, from his initial depression through all of his learning and experience with the disease to his final chapter. Most of us likely know at least one person with Parkinson's, and to now have this incredibly informative text allows us to understand the disease in a fresh, bold, visual and visceral way. Those who may find themselves with the unfortunate diagnosis will have a helpful guide to understanding and coping."
"The reach of this book extends far beyond those who have, or know someone who has, Parkinson's disease. I recommend it especially to physicians and other health care providers, who by reading it might avoid the "gratuitous cruelty" that is so easily inflicted, and which Dunlap-Shohl illustrates from his own experiences. . . . I recommend it also to all readers as a story told with humor, honesty and grace, and Dunlap-Shohl has made it into a work of art."
"Peter Dunlap-Shohl once again brings his unique art to the table to help educate, illustrate, and demonstrate life, hope, and strength on his journey with Parkinson's. Creative and insightful, this book reflects all of Pete's greatest qualities, including his constant work to help and educate all those in the PD community, patients and care partners alike."
"Peter Dunlap-Shohl is a comic genius and a masterful artist. The fact that he came down with early-onset Parkinson's gave him the unlucky opportunity to chronicle this dogged and humorless disease. His wit and artistry, his truth telling in the face of struggle, makes the struggle easier for his readers to bear. Peter is a Rock Star Artist and Humorist. Every disease like Parkinson's should have someone like Peter Dunlap-Shohl, until there are no more diseases like Parkinson's left."
"I could have recommended Peter Dunlap-Shohl's book because it brings attention to a great purpose. Or because it is brave and honest work. Or even simply to acknowledge an achievement of this magnitude created under physical, psychological, and emotional circumstances that most of us will never understand.
"But I'm not endorsing Peter's graphic novel for any of those reasons. I'm doing so because this is a damn fine work of art, by a damn fine artist."
"The world made fresh by a Parkinson's patient with a wonderfully sensitive and cocked eye. He tells the tale of his fast-changing reality with compassion and wicked humor, leaping from one crazily inventive work of art to the next. Never more acute than when examining his own mind-set, Peter Dunlap-Shohl leads us from diagnosis and despair to the high ground where he could compose this lucid, moving book. A miracle, in a way—and a triumph."
"Terrific, a read-in-one-sitting book that engages, teaches, and challenges readers from the first page until its conclusion. . . . Ultimately, this is a story about resilience, and how PD helped the author develop a new perspective on the fragility of life and his ability to adapt to adversity. It is a lesson that all health care professionals should heed."
"This unique memoir is a must-read for those facing a diagnosis of Parkinson's disease. Caregivers and others interested in this disease also will glean valuable insights into what it is like for someone living with this diagnosis. The use of comics is an engaging way to impart useful information about the difficult topic of living with a chronic disease and, perhaps, ways of savoring any joy along the journey."
Peter Dunlap-Shohl worked as a cartoonist for the Anchorage Daily News for twenty-five years. He has won various prizes, including the First Amendment Award from the Alaska Press Club. His blogs are Frozen Grin and Off & On, the Alaska PD Rag, about living with Parkinson's disease.
Contents
Acknowledgments
1 Diagnosis Blues
2 Learning to Speak Parkinson's
3 Interview with a Killer
4 Moping and Coping
5 The Parkinson's Prism
6 Island of the Caring and Competent
7 A Different Path
8 Diagnosis, Reprise
Mailing List
Subscribe to our mailing list and be notified about new titles, journals and catalogs.