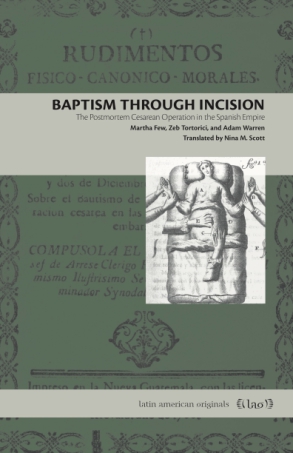 Baptism Through Incision
The Postmortem Cesarean Operation in the Spanish Empire
Martha Few, Zeb Tortorici, Adam Warren, and Translated by Nina M. Scott
Buy
Baptism Through Incision
The Postmortem Cesarean Operation in the Spanish Empire
Martha Few, Zeb Tortorici, Adam Warren, and Translated by Nina M. Scott
Winner of the 2021 Teaching Edition Award from the Society for the Study of Early Modern Women and Gender
"Baptism Through Incision offer[s] a varied, rich perspective on the ways in which print culture, pickled with the ideologies of patriarchy, white supremacy, and empire, has determined women's bodies as sites of contention across space and time."
Description

Reviews

Bio

Table of Contents

Subjects
In 1786, Guatemalan priest Pedro José de Arrese published a work instructing readers on their duty to perform the cesarean operation on the bodies of recently deceased pregnant women in order to extract the fetus while it was still alive. Although the fetus's long-term survival was desired, the overarching goal was to cleanse the unborn child of original sin and ensure its place in heaven.
Baptism Through Incision
presents Arrese's complete treatise—translated here into English for the first time—with a critical introduction and excerpts from related primary source texts.
Inspired by priests' writings published in Spain and Sicily beginning in the mid-eighteenth century, Arrese and writers like him in Peru, Mexico, Alta California, Guatemala, and the Philippines penned local medico-religious manuals and guides for performing the operation and baptism. Comparing these texts to one another and placing them in dialogue with archival cases and print culture references, this book traces the genealogy of the postmortem cesarean operation throughout the Spanish Empire and reconstructs the transatlantic circulation of obstetrical and scientific knowledge around childbirth and reproduction. In doing so, it shows that knowledge about cesarean operations and fetal baptism intersected with local beliefs and quickly became part of the new ideas and scientific-medical advancements circulating broadly among transatlantic Enlightenment cultures.
A valuable resource for scholars and students of colonial Latin American history, the history of medicine, and the history of women, reproduction, and childbirth, Baptism Through Incision includes translated excerpts of works by Spanish surgeon Jaime Alcalá y Martínez, Mexican physician Ignacio Segura, and Peruvian friar Francisco González Laguna, as well as late colonial Guatemalan instructions, and newspaper articles published in the Gazeta de México, the Gazeta de Guatemala, and the Mercurio Peruano.
"Baptism Through Incision offer[s] a varied, rich perspective on the ways in which print culture, pickled with the ideologies of patriarchy, white supremacy, and empire, has determined women's bodies as sites of contention across space and time."
"This illuminating volume should encourage readers to revisit assumptions about rigid medical specialties and academic disciplines centered on the study of the human person. We are challenged to rethink the rise of the modern medical profession and the role of religious people, worldviews, and institutions in it."
Martha Few is Professor of Latin American History and Women's, Gender, and Sexuality Studies at Penn State University.
Zeb Tortorici is Associate Professor of Spanish and Portuguese at New York University.
Adam Warren is Associate Professor of Latin American History at the University of Washington.
Foreword
Acknowledgments
Translator's Note
Introduction: Postmortem Cesareans and Pedro José de Arrese's Guatemalan Treatise in Historical Context
1. Arrese's Text: Physical, Canonical, Moral Principles . . . on the Baptism of Miscarried Fetuses and the Cesarean Operation on Women Who Die Pregnant
Translated by Nina M. Scott
2. Additional Translations from Across the Spanish Empire
Translated by Martha Few, Zeb Tortorici, and Adam Warren
Excerpt from Spain
Excerpts from Colonial Peru and Río de la Plata
Excerpts from Colonial Guatemala
Excerpts from Colonial New Spain
Glossary
Bibliography
Index
Mailing List
Subscribe to our mailing list and be notified about new titles, journals and catalogs.