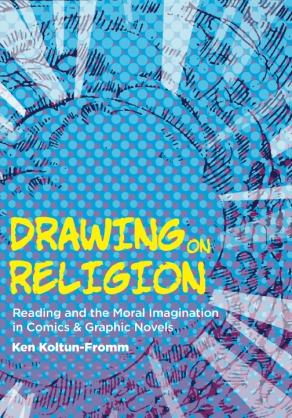 Drawing on Religion
Reading and the Moral Imagination in Comics and Graphic Novels
Ken Koltun-Fromm
Buy
Drawing on Religion
Reading and the Moral Imagination in Comics and Graphic Novels
Ken Koltun-Fromm
"This project takes a compelling place within the hermeneutics of religion and literature as a way of studying religion. Most impressive is Koltun-Fromm's subtle interpretation of the material, showing that it sustains very careful analysis, proving itself worthy of close reading and moral probing. Drawing on Religion models a productive integration of textual and visual materials and does so with clear prose and no jargon or excessive theorizing."
Description

Reviews

Bio

Table of Contents

Sample Chapters

Subjects
Comics traffic in stereotypes, which can translate into real danger, as was the case when, in 2015, two Muslim gunmen opened fire at the offices of
Charlie Hebdo
, which had published depictions of Islam and Muhammad perceived by many to be blasphemous. As a response to that tragedy, Ken Koltun-Fromm calls for us to expand our moral imaginations through readings of graphic religious narratives.

Utilizing a range of comic books and graphic novels, including R. Crumb's
Book of Genesis Illustrated
, Craig Thompson's
Blankets
, the Vakil brothers'
40 Sufi Comics
, and
Ms. Marvel
, Koltun-Fromm argues that representing religion in these formats is an ethical issue. By focusing on the representation of Christian, Jewish, Muslim, and Hindu religious traditions, the comics discussed in this book bear witness to the ethical imagination, the possibilities of traversing religious landscapes, and the problematic status of racial, classed, and gendered characterizations of religious persons. Koltun-Fromm explores what religious stereotypes do and how they function in comics in ways that might expand or diminish our imaginative worlds. The pedagogical challenge, he argues, is to linger in that space and see those worlds well, with both ethical sensitivity and moral imagination.

Accessibly written and vibrantly illustrated, this book sheds new light on the ways in which comic arts depict religious faith and culture. It will appeal to students and scholars of religion, literature, and comic studies.
"This project takes a compelling place within the hermeneutics of religion and literature as a way of studying religion. Most impressive is Koltun-Fromm's subtle interpretation of the material, showing that it sustains very careful analysis, proving itself worthy of close reading and moral probing. Drawing on Religion models a productive integration of textual and visual materials and does so with clear prose and no jargon or excessive theorizing."
"Drawing on Religion is an excellent and engaging read. Koltun-Fromm (social responsibility and religion, Haverford College) looks at the complex ethical issues surrounding the graphic representation of religious and moral stories. Accessible and easy to read, Drawing on Religion leads one to imagine what it means to visualize and draw moral and sacred worlds, particularly in comics, which often rely on stereotypes to push narratives."
"Deftly contends with the adage that 'representation matters' and with the specific representations of religious life that comics offer."
"Koltun-Fromm has offered readers a nuanced perspective on comics that may appear unproblematic in their representation of and relationship with religion, but in fact are anything but. Such comics enable the reader to move to intellectual, moral and ethical places they would not have otherwise encountered."
"Far beyond a naïve listing of places where religion appears in comics, Koltun-Fromm has selected a few moments in the history of comics to linger over and interpret in a deliberative way . . . that is conscious of the ambiguities of the medium."
Ken Koltun-Fromm is Robert and Constance MacCrate Professor of Social Responsibility and Professor of Religion at Haverford College. He is the author of Imagining Jewish Authenticity: Vision and Text in American Jewish Thought and coeditor of Comics and Sacred Texts: Reimagining Religion and Graphic Narratives.
Figures List
Acknowledgments
Introduction: The Ethics of Representation
Chapter One: Stereotypes and the Moral Challenges of Aesthetic Narration
Chapter Two: The Ethics of Scriptural Play: Race, Gender, and Moral Sources
Chapter Three: Imagining (Superhero) Identity
Chapter Four: The Nativist Imagination in Religious Comic Stories
Chapter Five: Graphic Violence and the Religious Self
Conclusion: The Ethics of Lingering
Notes
Bibliography
Index
Mailing List
Subscribe to our mailing list and be notified about new titles, journals and catalogs.