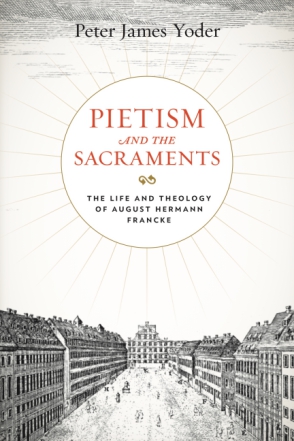 Pietism and the Sacraments
The Life and Theology of August Hermann Francke
Peter James Yoder
Buy
Pietism and the Sacraments
The Life and Theology of August Hermann Francke
Peter James Yoder
"Yoder sensitively weaves Francke's sacramental theology into his larger doctrinal structure, set within the biographical contours that surrounded Francke's application of his inheritance from Luther and others in the crucible of pastoral care. A stimulating and provocative advance in understanding Pietism."
Description

Reviews

Bio

Table of Contents

Sample Chapters

Subjects
Considered by many to be one of the most influential German Pietists, August Hermann Francke lived during a moment when an emphasis on conversion was beginning to produce small shifts in how the sacraments were defined—a harbinger of later, more dramatic changes to come in evangelical theology. In this book, Peter James Yoder uses Francke and his theology as a case study for the ecclesiological stirrings that led to the rise of evangelicalism and global Protestantism.
Engaging extensively with Francke's manuscript sermons and writings, Yoder approaches Francke's life and religious thought through his theology of the sacraments. In doing so, Yoder delivers key insights into the structure of Francke's Pietist thought, providing a rich depiction of his conversion-driven theology and how it shaped his views of the sacraments and the church. The first in-depth study of Francke's theology written for an English-speaking audience, this book supports recent scholarship in English that not only challenges long-held assumptions about Pietism but also argues for the role of Pietism's influence on the changing religious landscape of the eighteenth century. Through his examination of Francke's theology of the sacraments, Yoder presents a fresh view into the eighteenth-century ecclesiological developments that caused a rupture with the dogmas of the Reformation.
Original and vital, this study recognizes Francke's importance to the history of Pietism in Germany and beyond. It will become the standard reference on Francke for American audiences and will influence scholarship on Lutheranism, Pietism, early modern German studies, and eighteenth-century history and religion.
"Yoder sensitively weaves Francke's sacramental theology into his larger doctrinal structure, set within the biographical contours that surrounded Francke's application of his inheritance from Luther and others in the crucible of pastoral care. A stimulating and provocative advance in understanding Pietism."
"In this imaginative exploration of the works of August Hermann Francke, Peter Yoder opens up significant new areas for discussion in the understanding of the relationship between God's Word and personal conversion and faith in Pietist circles. This illuminating assessment is bound to provoke discussion and fresh research on Francke himself as well as on the impact of Pietist thinking on the rapidly changing eighteenth-century religious scene."
"Peter Yoder has provided an important analysis of two long-neglected dimensions of August Hermann Francke's version of German Pietism. Francke's affinity for a version of Reformed convictions about both sacraments and 'church' moved both the man and the varieties of Pietism associated with him into post-confessional Protestantism within and especially beyond Europe."
"This close study of August Hermann Francke's theology is the first anglophone book on Francke in generations, and it is sure to become the new standard text on Francke and Halle Pietism. Yoder's book offers an accessible introduction to Francke and Pietism that will also be rewarding for subject matter experts."
"This study further illumines Francke's distinctive role in shaping Pietist theology and practice."
"This is a most welcome addition to the study of the life and thought of one of the German architects of Pietism, August Hermann Francke (1663-1727)."
"Protestantism in the eighteenth century was developing and changing, but was this because of Francke, or was his nuanced understanding of the church and sacraments ignored? This work finally does not fully answer this question, but wisely leaves it for others to explore. Whether in the end you come down for or against Francke (or somewhere in the middle), this volume makes important contributions to our understanding of him, of Lutheran pietism, and of the course of modern Protestantism."
Peter James Yoder is Lecturer in Historical Theology and Director of Admissions at Reformed Theological Seminary, Dallas.
Acknowledgments
Introduction
1. The Rise of a Pietist Pastor Theologian
2. Biblicism, Conversion, and Reform
3. From Ignorance to Oath
4. Baptism Grounded in Christ
5. The Baptismal Covenant and Rebirth
6. Confession
7. The Eucharist
Epilogue: The Church of the Heart
Notes
Bibliography
Index
Mailing List
Subscribe to our mailing list and be notified about new titles, journals and catalogs.