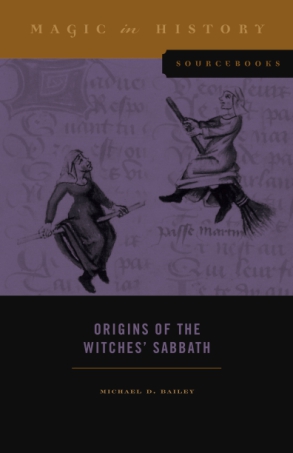 Origins of the Witches' Sabbath
Michael D. Bailey
BUY
Origins of the Witches' Sabbath
Michael D. Bailey
"These translations by Michael Bailey, with his rich and up-to-date introductions and notes, will finally give readers of English access to these sources, which are essential for any historical work worthy of the name."
Description

Reviews

Bio

Table of Contents

Sample Chapters

Subjects
While the perception of magic as harmful is age-old, the notion of witches gathering together in large numbers, overtly worshiping demons, and receiving instruction in how to work harmful magic as part of a conspiratorial plot against Christian society was an innovation of the early fifteenth century. The sources collected in this book reveal this concept in its formative stages.
The idea that witches were members of organized heretical sects or part of a vast diabolical conspiracy crystalized most clearly in a handful of texts written in the 1430s and clustered geographically around the arc of the western Alps. Michael D. Bailey presents accessible English translations of the five oldest surviving texts describing the witches' sabbath and of two witch trials from the period. These sources, some of which were previously unavailable in English or available only in incomplete or out-of-date translations, show how perceptions of witchcraft shifted from a general belief in harmful magic practiced by individuals to a conspiratorial and organized threat that led to the witch hunts that shook northern Europe and went on to influence conceptions of diabolical witchcraft for centuries to come.
Origins of the Witches' Sabbath makes freshly available a profoundly important group of texts that are key to understanding the cultural context of this dark chapter in Europe's history. It will be especially valuable to those studying the history of witchcraft, medieval and early modern legal history, religion and theology, magic, and esotericism.
"These translations by Michael Bailey, with his rich and up-to-date introductions and notes, will finally give readers of English access to these sources, which are essential for any historical work worthy of the name."
"These are extremely important texts that merit wide attention in English. They are absolutely crucial to understanding the origins of ecclesiastical concern over what common people had long described as witchcraft but had been largely dismissed as impossible and/or illusory since the tenth century."
"This is a revealing volume of texts, newly translated by Michael Bailey, an expert in the history of witchcraft. They include secular as well as religious writers, given that witchcraft was a felony as well as a heresy."
Michael D. Bailey is Professor of History at Iowa State University and the author of five books on magic, superstition, and witchcraft, including Battling Demons: Witchcraft, Heresy, and Reform in the Late Middle Ages, also published by Penn State University Press.
Acknowledgements
Map
General Introduction
Hans Fründ, Report on Witchcraft in Valais
Claude Tholosan, So That the Errors of Magicians
and Witches
Anonymous, Errors of the Gazarii
Johannes Nider, Anthill
Anonymous, The Vauderie of Lyon
A Pair of Fifteenth-Century Trials
Selected Bibliography
Index
Mailing List
Subscribe to our mailing list and be notified about new titles, journals and catalogs.