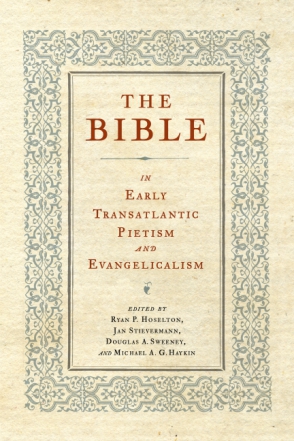 The Bible in Early Transatlantic Pietism and Evangelicalism
Edited by Ryan P. Hoselton, Jan Stievermann, Douglas A. Sweeney, and Michael A. G. Haykin
Buy
The Bible in Early Transatlantic Pietism and Evangelicalism
Edited by Ryan P. Hoselton, Jan Stievermann, Douglas A. Sweeney, and Michael A. G. Haykin
"The Bible in Early Transatlantic Pietism and Evangelicalism is a pioneering work for its thorough exploitation of primary sources revealing how major Pietist and evangelical figures (and others less well known) approached the Bible—sustaining some traditions from earlier Protestantism, responding in part to the intellectual conventions of the Enlightenment, but also promoting innovations of enduring significance in using Scripture."
Description

Reviews

Bio

Table of Contents

Sample Chapters

Subjects
This collection of essays showcases the variety and complexity of early awakened Protestant biblical interpretation and practice while highlighting the many parallels, networks, and exchanges that connected the Pietist and evangelical traditions on both sides of the Atlantic.
A yearning to obtain from the Word spiritual knowledge of God that was at once experiential and practical lay at the heart of the Pietist and evangelical quest for true religion, and it significantly shaped the courses and legacies of these movements. The myriad ways in which Pietists and evangelicals read, preached, translated, and practiced the Bible were inextricable from how they fashioned new forms of devotion, founded institutions, engaged the early Enlightenment, and made sense of their world. This volume provides breadth and texture to the role of Scripture in these related religious traditions. The contributors probe an assortment of primary source material from various confessional, linguistic, national, and regional traditions and feature well-known figures—including August Hermann Francke, Cotton Mather, and Jonathan Edwards—alongside lesser-known lay believers, women, people of color, and so-called radicals and separatists.
Pioneering and collaborative, this volume contributes fresh insight into the history of the Bible and the entangled religious cultures of the eighteenth-century Atlantic world.
Along with the editors, the contributors to this volume include Ruth Albrecht, Robert E. Brown, Crawford Gribben, Bruce Hindmarsh, Kenneth P. Minkema, Adriaan C. Neele, Benjamin M. Pietrenka, Isabel Rivers, Douglas H. Shantz, Peter Vogt, and Marilyn J. Westerkamp.
"The Bible in Early Transatlantic Pietism and Evangelicalism is a pioneering work for its thorough exploitation of primary sources revealing how major Pietist and evangelical figures (and others less well known) approached the Bible—sustaining some traditions from earlier Protestantism, responding in part to the intellectual conventions of the Enlightenment, but also promoting innovations of enduring significance in using Scripture."
"The essays in The Bible in Early Transatlantic Pietism and Evangelicalism take a creative and to some extent new or overlooked approach to the relationship between the two diverse, though often parallel, faith traditions, Pietist and evangelical, viewed in transatlantic connection."
Ryan P. Hoselton is Instructor and Postdoctoral Research Associate at Heidelberg University. He is the author of The Love of God Holds Creation Together: Andrew Fuller's Theology of Virtue.
Jan Stievermann is Professor of the History of Christianity in the United States at Heidelberg University and Director of the Jonathan Edwards Center Germany. He is the author of Prophecy, Piety, and the Problem of Historicity: Interpreting the Hebrew Scriptures in Cotton Mather's "Biblia Americana" and coeditor of The Oxford Handbook of Jonathan Edwards.
Douglas A. Sweeney is Dean and Professor of Divinity at Beeson Divinity School, Samford University. He is the author of Edwards the Exegete: Biblical Interpretation and Anglo-Protestant Culture on the Edge of the Enlightenment and coeditor of The Oxford Handbook of Jonathan Edwards.
Michael A. G. Haykin is Professor of Church History and Director of the Andrew Fuller Center for Baptist Studies at the Southern Baptist Theological Seminary. He is the coeditor of A New Divinity: Transatlantic Reformed Evangelical Debates During the Long Eighteenth Century and coauthor of Being a Pastor: A Conversation with Andrew Fuller.
Acknowledgements
List of Abbreviations
Introduction
Ryan P. Hoselton
Part 1: Commentators and Commentaries
1. Bible Editions, Translations, and Commentaries in German Pietism
Douglas H. Shantz
2. Biblical Aids, Editions, Translations, and Commentaries by Dissenters, Methodists, and Church of England Evangelicals in Eighteenth-Century England
Isabel Rivers
Part 2: Historical Trajectories and Transitions
3. Early Modern Dutch Reformed Exegesis and Its Pietist-Evangelical Reception
Adriaan C. Neele
4. Reading the Bible: John Owen and Early Evangelical "Biblicism"
Crawford Gribben
5. Bible Politics and Early Evangelicalism: nScriptural Submission and Resistance in Nonconformist Commentary
Robert E. Brown
6. The Bible in Early Pietist and Evangelical Missions
Ryan P. Hoselton
Part 3: Interpretive Approaches, Issues, and Debates
7. The Evangelical Supernatural in Early Modern British Protestantism: Cotton Mather and Jonathan Edwards on the Miracles of Jesus
Douglas A. Sweeney
8. Lay Appropriations and Female Interpretations of the Bible in German Pietism
Ruth Albrecht
9. "My Beloved Is White and Ruddy": Particular Baptist Readings of the Song of Songs in the Long Eighteenth Century
Michael A. G. Haykin
10. Cotton Mather, Jonathan Edwards, and the Relationship Between Historical and Spiritual Exegesis in Early Evangelicalism
Kenneth P. Minkema
11. Reading Revelation and Revelatory Readings in Early Awakened Protestantism: A Transatlantic Comparison
Jan Stievermann
Part 4: The Bible and Lived Religion
12. "At Any Price Give Me the Book of God!": Devotional Intent and Bible Reading for the Early Evangelicals
Bruce Hindmarsh
13. Spirit of the Word: Scripture in the Lives of Evangelical and Moravian Women in the New World, 1730–1830
Benjamin M. Pietrenka and Marilyn J. Westerkamp
14. Moravians and the Bible in the Atlantic World: The Case of the Daily Watchwords in Bethlehem, PA, 1742–1745
Peter Vogt
Conclusion
Douglas A. Sweeney, Jan Stievermann, and Ryan P. Hoselton
List of Contributors
Index of Scripture
General Index
Mailing List
Subscribe to our mailing list and be notified about new titles, journals and catalogs.