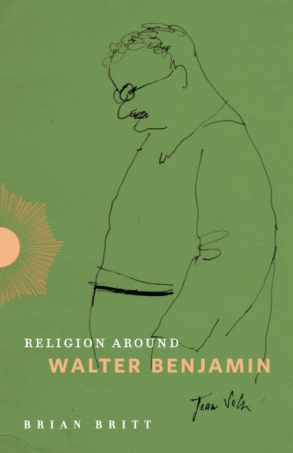 Religion Around Walter Benjamin
Brian Britt
Buy
Religion Around Walter Benjamin
Brian Britt
"What this book adds to the vast literature on Benjamin is more than a tremendously learned and carefully crafted examination of contexts and intersecting dynamics of religion, culture, and politics that influence him. . . . Zooming in on continuing forms of religiosity usually obscured by the dominant narrative of secularization, Britt provides an original perspective—and undertakes a rescue project in its own right."
Description

Reviews

Bio

Table of Contents

Sample Chapters

Subjects
This book shows how institutional religion and the religiosity of political and cultural life provide a necessary dimension to Walter Benjamin, one of the twentieth century's greatest thinkers.
Lived religion surrounded Benjamin, whose upper-middle-class Jewish family celebrated Christmas and Hanukkah in Berlin as the turmoil of war, collapsing empires, and modern urban life gave rise to the Nazi regime that would destroy most of Europe's Jews, including Benjamin himself. Documenting the vitality and diversity of religious life that surrounded Benjamin in Germany, France, and beyond, Brian Britt shows the extent to which religious communities and traditions, especially those of Christians, influenced his work. Britt surveys and analyzes the intellectual, cultural, and social contexts of religion in Benjamin's world and broadens the religious frame around discussions of his work to include lived religion—the daily practices of ordinary people. Seeing religion around Benjamin requires looking at forms of life and institutions that he rarely discussed. As Britt shows, dramatic changes in religious practices, particularly in Berlin, reflected broader political and cultural currents that would soon transform the lives of all Europeans.
An original perspective on the religious context of a thinker who habitually raised questions about the survival of religion in modernity, Religion Around Walter Benjamin contributes to wider discussions of religious tradition and secular modernity in religious and cultural studies. It provides a foundational overview and introduction to the context of Benjamin's writing that will be appreciated by scholars and students alike.
"What this book adds to the vast literature on Benjamin is more than a tremendously learned and carefully crafted examination of contexts and intersecting dynamics of religion, culture, and politics that influence him. . . . Zooming in on continuing forms of religiosity usually obscured by the dominant narrative of secularization, Britt provides an original perspective—and undertakes a rescue project in its own right."
"An excellent sourcebook for students and readers of Benjamin coming at his life and writing for the first time. Almost every source that could be called 'religious' or 'religion' in circles close to him, circles he may have crossed, and circles far from him is given a nod."
"This book is an excellent case study for the fate of modern religion at the crossroad of social practice and personal experience. Depicting the rich and diverse religious landscape it reveals new perspectives on an epoch that is still central for our critical thought. It stresses the importance of religion for intellectual history, in particular of those small religious practices that Britt's careful reconstructions bring back to life."
"Britt's book elegantly navigates the different expressions of religion that surrounded Benjamin's writing and life. This rigorous work manages to bring together his engagement with religious ideas, metaphors, practices and influences, shedding new light on some of Benjamin's most renowned ideas. Going both with and against Benjamin, Britt draws a compelling and illuminating account."
Brian Britt is Professor of Religion and Culture at Virginia Tech. He is the author of Postsecular Benjamin: Agency and Tradition; Biblical Curses and the Displacement of Tradition; and Walter Benjamin and the Bible.
List of Illustrations
Preface
Acknowledgements
List of Abbreviations
Introduction
1. Thinking with Everyday Religion
2. Benjamin's Berlin
3. Cults of War
4. Religion Around Weimar
5. Habits of Seeing in the End
Notes
Bibliography
Index
Mailing List
Subscribe to our mailing list and be notified about new titles, journals and catalogs.