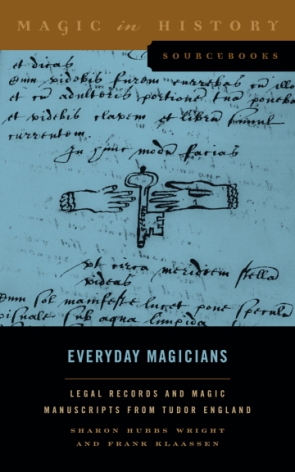 Everyday Magicians
Legal Records and Magic Manuscripts from Tudor England
Sharon Hubbs Wright and Frank Klaassen
Buy
Everyday Magicians
Legal Records and Magic Manuscripts from Tudor England
Sharon Hubbs Wright and Frank Klaassen
"The provision of these original sources is a gift to historians and their students but also to modern magicians seeking working materials, and the authors' analyses provide genuinely new insights into the nature of late medieval and early modern English magical practice."
Description

Reviews

Bio

Table of Contents

Sample Chapters

Subjects
Most of the women and men who practiced magic in Tudor England were not hanged or burned as witches, despite being active members of their communities. These everyday magicians responded to common human problems such as the vagaries of money, love, property, and influence, and they were essential to the smooth functioning of English society. This illuminating book tells their stories through the legal texts in which they are named and the magic books that record their practices.
In legal terms, their magic fell into the category of sin or petty crime, the sort that appeared in the lower courts and most often in church courts. Despite their relatively lowly status, scripts for the sorts of magic they practiced were recorded in contemporary manuscripts. Juxtaposing and contextualizing the legal and magic manuscript records creates an unusually rich field to explore the social aspects of magic practice.
Expertly constructed for both classroom use and independent study, this book presents in modern English the legal documents and magic texts relevant to ordinary forms of magic practiced in Tudor England. These are accompanied by scholarly introductions with original perspectives on the subjects. Topics covered include: the London cunning man Robert Allen; magic to identify thieves; love magic; magic for hunting, fishing and gambling, and magic for healing and protection.
"The provision of these original sources is a gift to historians and their students but also to modern magicians seeking working materials, and the authors' analyses provide genuinely new insights into the nature of late medieval and early modern English magical practice."
Sharon Hubbs Wright is Professor of History at St. Thomas More College and Director of Classical, Medieval and Renaissance Studies at the University of Saskatchewan. She is the coauthor, along with Frank Klaassen, of The Magic of Rogues: Necromancers in Early Tudor England, also published by Penn State University Press.
Frank Klaassen is Professor of History at the University of Sakatchewan. He is the author of Making Magic in Elizabethan England: Two Early Modern Vernacular Books of Magic and the award-winning The Transformations of Magic: Illicit Learned Magic in the Later Middle Ages and Renaissance, both published by Penn State University Press.
Acknowledgements
Introduction
1. The God of Norfolk: Prognostication and Other Cunning
2. Theft Divination and the Return of Stolen Goods
3. Love Magic
4. Men's Games: Gambling, Hunting, and Fishing
5. Healing and Protection from Harm
Conclusion
Appendix: Words of Power with Known Meanings
Bibliography
Index
Mailing List
Subscribe to our mailing list and be notified about new titles, journals and catalogs.