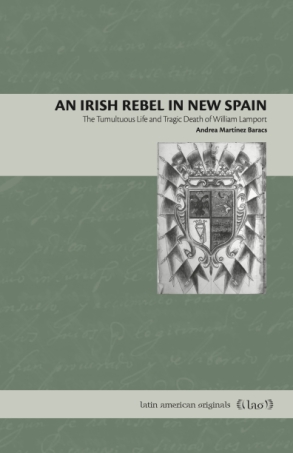 An Irish Rebel in New Spain
The Tumultuous Life and Tragic Death of William Lamport
Andrea Martínez Baracs and Translated By Hank Heifetz
Buy
An Irish Rebel in New Spain
The Tumultuous Life and Tragic Death of William Lamport
Andrea Martínez Baracs and Translated By Hank Heifetz
"It is remarkable, as Andrea Martínez Baracs suggests, that such a high-ranking political player in the Spanish court, who argued forcefully for liberty, freedom, and self-rule a century before those ideas became associated with the Age of Revolutions, has been so thoroughly forgotten. This volume succeeds admirably in bringing William Lamport back into view, connecting him to historical relationships between Ireland and both Spain and Native America that are often overlooked."
Media

Description

Reviews

Bio

Table of Contents

Subjects
Watch "PSU Press Presents: Latin American Originals," a virtual author event hosted by the Press on February 16th, 2022 with Peter Hess, Kris Lane, Andrea Martínez Baracs, and series editor Matthew Restall:
An Irish Rebel
in New Spain
recounts the story of the so-called Irish Zorro, who, in 1659, was burned at the stake for conspiring against the empire to make himself king of Mexico, restore the privileges of the Indigenous people, end the persecution of the Jews, and free the African slaves.
William Lamport was an Irish rebel, a soldier, a poet, and a thinker. His Catholic family lost their land and their religious freedom after the English conquest of Ireland. In 1640, Lamport emigrated to New Spain, where he witnessed the abuses of the colonial system and later ran afoul of the Mexican Inquisition. Imprisoned in 1642, Lamport argued his own defense as well as that of the Jews who were in prison with him. Along with a concise biography, this volume provides an anthology of Lamport's most representative writings: his detailed project for a Spanish-supported Irish insurrection; a manifesto and plan for a Mexican uprising against Spain; his self-defense, which he nailed to the doors of the cathedral when he managed to momentarily escape from prison; a selection of his poetry; and the court documents about the accusation that led him to the pyre.
This concise, compelling, and original reflection on the systems of (in)justice in seventeenth-century Mexico is designed for classes on early modern Spain, colonial Latin America, and the Inquisition. Those with an affinity for Irish history will also enjoy learning about the colorful life of William Lamport.
"It is remarkable, as Andrea Martínez Baracs suggests, that such a high-ranking political player in the Spanish court, who argued forcefully for liberty, freedom, and self-rule a century before those ideas became associated with the Age of Revolutions, has been so thoroughly forgotten. This volume succeeds admirably in bringing William Lamport back into view, connecting him to historical relationships between Ireland and both Spain and Native America that are often overlooked."
"Martínez Baracs, quite laudably, has made a convincing argument for rigorously contextualizing [Lamport's] ideas. This is Martínez Baracs's great contribution. By making Lamport's texts accessible, this masterful volume makes it possible for students of colonial Mexico, the early modern Irish diaspora, and radical politics in the Atlantic world to cast a cold eye on this brilliant and misunderstood intellect and rebel."
Andrea Martínez Baracs is Director of the Biblioteca Digital Mexicana. She is the author of Don Guillén de Lampart, hijo de sus hazañas and Un gobierno de indios: Tlaxcala, 1519–1750.
List of Illustrations
Foreword
Acknowledgements
Introduction
Document 1: Proposal to King Philip IV for the Liberation of Ireland
Document 2: Proclamation of Insurrection for the Kingdom of New Spain
Document 3: Proclamation of the Just Judgments of God: May He Punish Whoever Would Tear It Down
Document 4: Great Alcides
Document 5: Regium psalterium (Title Page and Twenty Poems)
Document 6: Excerpt from the Report by Rodrigo Ruíz de Zepeda Martínez
Bibliography
Index
Mailing List
Subscribe to our mailing list and be notified about new titles, journals and catalogs.