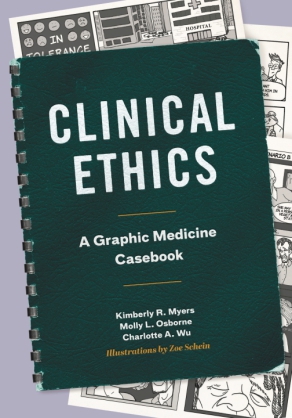 Clinical Ethics
A Graphic Medicine Casebook
Kimberly R. Myers, Molly L. Osborne, Charlotte A. Wu, and Illustrations by Zoe Schein
Buy
Clinical Ethics
A Graphic Medicine Casebook
Kimberly R. Myers, Molly L. Osborne, Charlotte A. Wu, and Illustrations by Zoe Schein
Named one of the Best Graphic Medicine Books of 2022 by the Journal of the American Medical Association
"Clinical Ethics offers an engaging introduction to an array of ethical questions prominently featured in medical ethics classrooms. Graphic scenarios provide individual cases or situations—many based on clinical experience—that highlight the four principles of medical ethics. The scenarios speak to one another, enhancing students' inquiry and understanding of the challenges of ethics, which raises questions rather than providing answers."
Media

Description

Reviews

Bio

Table of Contents

Sample Chapters

Subjects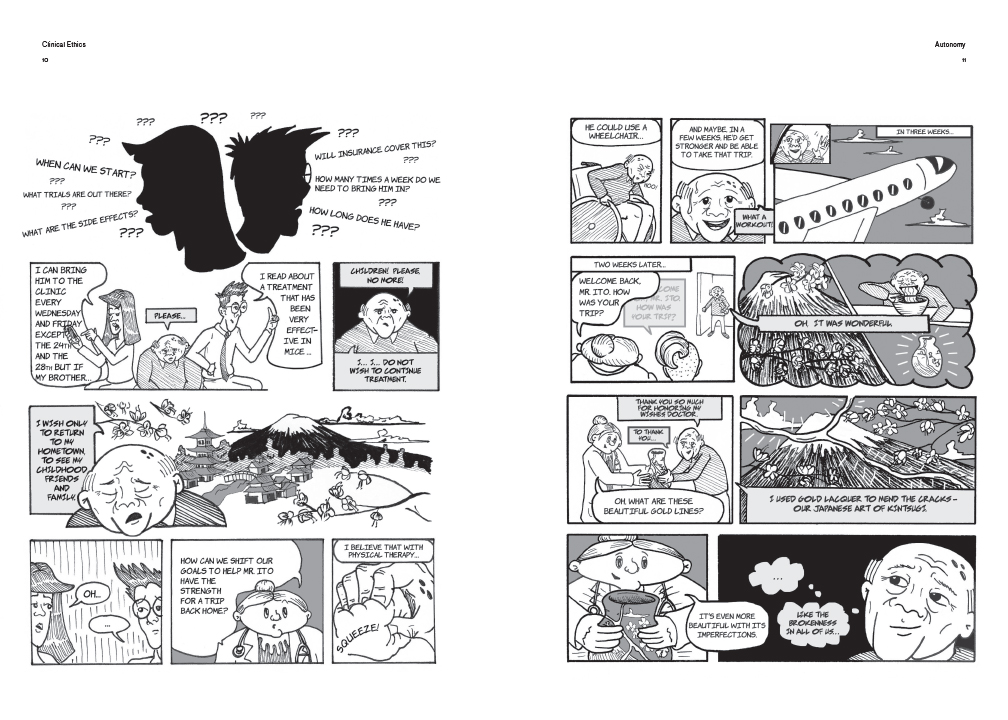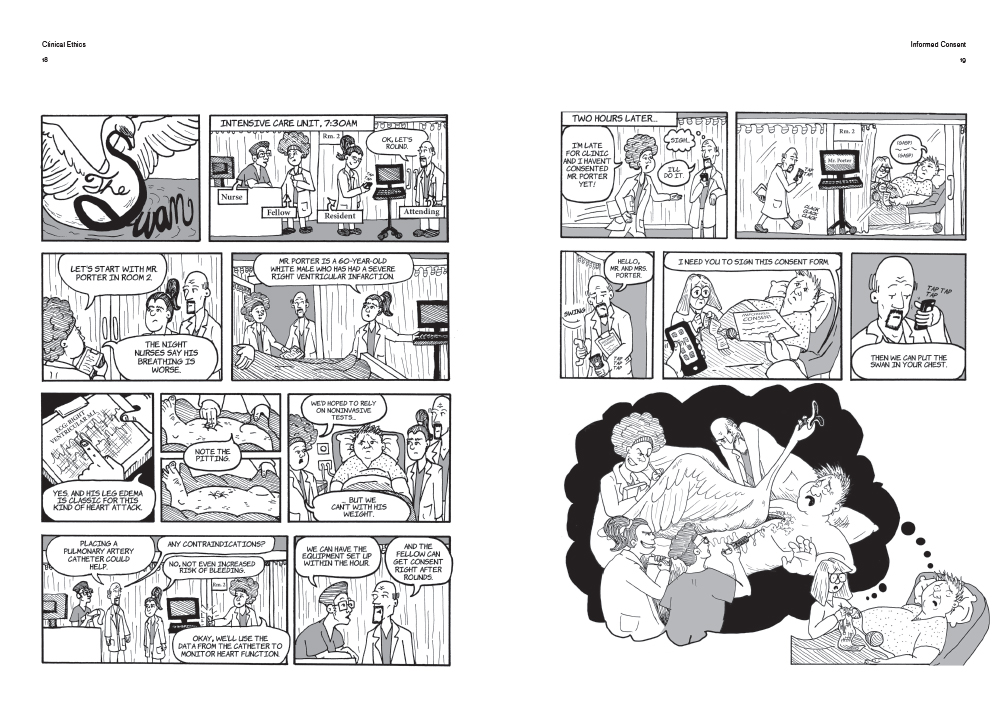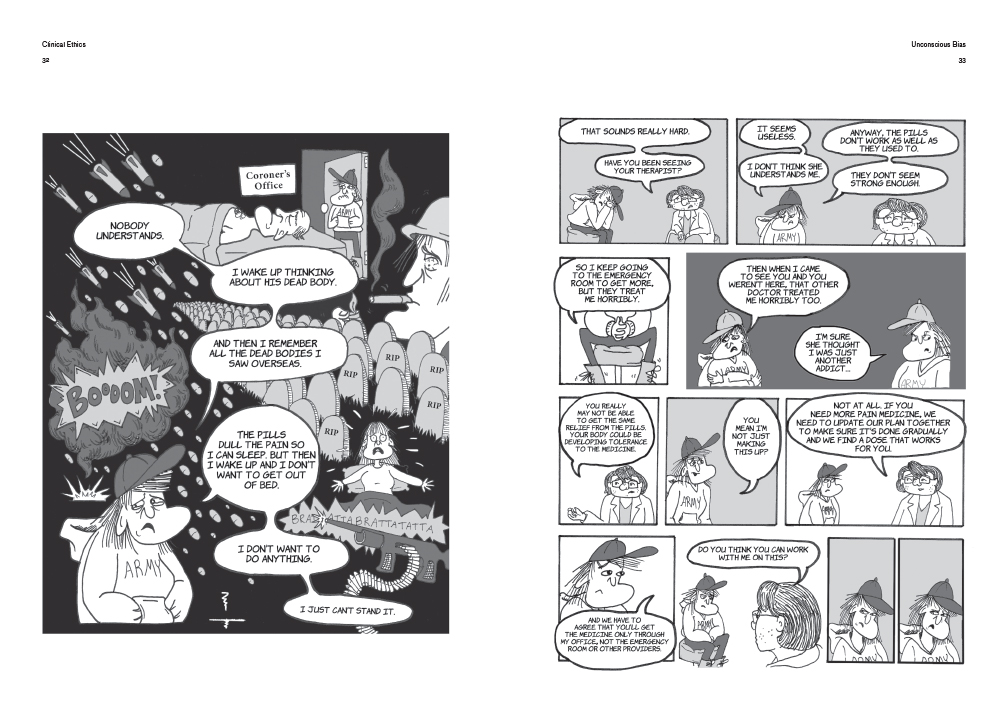 Mr. Ito's children act as his informal translators, but his doctor isn't sure their translations are accurate or complete. Is Mr. Ito getting the medical information he needs?
Ten-year-old Hannah arrives for her checkup with a bruised nose and an irritable father. Medical student Melanie is concerned for Hannah's safety but wary of making accusations without evidence.
Dr. Joshi worries that her patient is putting her husband, who is also Dr. Joshi's patient, at risk by concealing a sexually transmitted disease. How can she act in the interest of both husband and wife without compromising doctor-patient confidentiality?
Using the accessible and richly layered medium of comics, this collection reveals how ethical dilemmas in medical practice play out in real life. Designed for the classroom, Clinical Ethics provides an excellent introduction to medical ethics and presents case studies that will spark meaningful discussions among students and practitioners. The topics covered include patient autonomy, informed consent, unconscious bias, mandated reporting, confidentiality, medical mistakes, surrogate decision-making, and futility. The "Questions for Further Reflection" and "Related Readings" sections provide additional materials for a deeper exploration of the issues.
Co-created by experts in clinical medicine, ethics, literature, and comics, Clinical Ethics presents a new way for students and practitioners to engage with fundamental concerns in medical ethics.
"Clinical Ethics offers an engaging introduction to an array of ethical questions prominently featured in medical ethics classrooms. Graphic scenarios provide individual cases or situations—many based on clinical experience—that highlight the four principles of medical ethics. The scenarios speak to one another, enhancing students' inquiry and understanding of the challenges of ethics, which raises questions rather than providing answers."
Kimberly R. Myers, M.A., Ph.D., is Professor of Humanities and Medicine and Distinguished Educator at Penn State College of Medicine and Program Director of Schwartz Center Rounds for the Penn State Cancer Institute.
Molly L. Osborne, M.D., Ph.D., is Professor Emerita of Medicine at Oregon Health & Science University and VA Integrated Ethics Program Officer.
Charlotte A. Wu, M.D., M.Sc., is an internal medicine physician and founder of Harness Health Global.
Zoe Schein, M.A., is an illustrator and art educator based in Boston.
Foreword
Acknowledgements
Introduction
1. Autonomy: Broken Speech
2. Informed Consent: The Swan
3. Unconscious Bias: In Tolerance
4. Mandated Reporting of Suspected Abuse: Sneaking Suspicion
5. Confidentiality: Charting Courses
6. Medical Mistakes and Truth-Telling: Battered Trust
7. Surrogate Decision-Making and Advance Care Planning: Weighing Options
8. Futility: Critical Space
Mailing List
Subscribe to our mailing list and be notified about new titles, journals and catalogs.