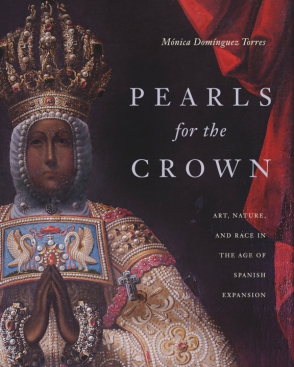 Pearls for the Crown
Art, Nature, and Race in the Age of Spanish Expansion
Mónica Domínguez Torres
Coming in June
Pearls for the Crown
Art, Nature, and Race in the Age of Spanish Expansion
Mónica Domínguez Torres
"Pearls for the Crown makes a significant contribution to current studies on the early modern pearl trade, nature, art, and race. It showcases how these marine gems came to embody imperial ideologies rooted in ancient Roman texts—and what textual sources and the display of pearls in artworks and rituals reveal about their worth."
Description

Reviews

Bio

Subjects
In the age of European expansion, pearls became potent symbols of imperial supremacy.
Pearls for the Crown
demonstrates how European art legitimated racialized hierarchies and inequitable notions about humanity and nature that still hold sway today.
When Christopher Columbus encountered pristine pearl beds in southern Caribbean waters in 1498, he procured the first source of New World wealth for the Spanish Crown, but he also established an alternative path to an industry that had remained outside European control for centuries. Centering her study on a selection of key artworks tied to the pearl industry, Mónica Domínguez Torres examines the interplay of materiality, labor, race, and power that drove artistic production in the early modern period. Spanish colonizers exploited the expertise and forced labor of Native American and African workers to establish pearling centers along the coasts of Central America, disrupting the environmental and demographic dynamics of their overseas territories. Drawing from postcolonial theory, material culture studies, and ecocriticism, Domínguez Torres demonstrates how, through use of the pearl, European courtly art articulated ideas about imperial expansion, European superiority, and control over nature, all of which played key roles in the political circles surrounding the Spanish Crown.
This highly anticipated interdisciplinary study will be welcomed by scholars of art history, the history of colonial Latin America, and ecocriticism in the context of the Spanish colonies.
"Pearls for the Crown makes a significant contribution to current studies on the early modern pearl trade, nature, art, and race. It showcases how these marine gems came to embody imperial ideologies rooted in ancient Roman texts—and what textual sources and the display of pearls in artworks and rituals reveal about their worth."
Mónica Domínguez Torres is Professor of Art History with a joint appointment in Latin American and Iberian Studies at the University of Delaware.
Mailing List
Subscribe to our mailing list and be notified about new titles, journals and catalogs.