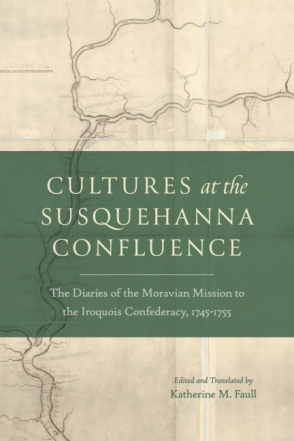 Cultures at the Susquehanna Confluence
The Diaries of the Moravian Mission to the Iroquois Confederacy, 1745-1755
Edited and Translated by Katherine M. Faull
Coming in March
Cultures at the Susquehanna Confluence
The Diaries of the Moravian Mission to the Iroquois Confederacy, 1745-1755
Edited and Translated by Katherine M. Faull
"Faull's volume offers a vital gateway to the hidden historical treasures of the Susquehanna River Valley in the eighteenth century. Addressing a rich tapestry of cultures, this book invites scholars and students of Moravian missions, Native American studies, and Indigenous-European contact history to delve into the intriguing stories of this diverse region."
Description

Reviews

Bio

Subjects
Located at the confluence of the north and west branches of the Susquehanna River, Shamokin was a significant historical settlement in the region that became Pennsylvania. By the time the Moravians arrived to set up a mission in the 1740s, Shamokin had been a site of intertribal commerce and refuge for the Native peoples of Pennsylvania for several centuries. It served first as a Susquehannock, then a Shawnee, and then a primarily Lenape settlement and trading post, overseen by the Oneida leader and diplomat Shikellamy.
Cultures at the Susquehanna Confluence is an annotated translation of the diaries documenting the Moravian mission to the area. Unlike other missions of the time, the Moravians at Shamokin integrated their work and daily life into the diverse cultures they encountered, demonstrating an unusual compromise between the Church's missionary impetus and the needs of the Six Nations of the Iroquois. The diaries counter the dominant vision of the area around Shamokin as a sinister place, revealing instead a nexus of vibrant cultural exchange where women and men speaking Lenape, Mohican, English, and German collaborated in the business of survival at a pivotal time.
The Shamokin diaries, which until now existed only in manuscript form in difficult-to-read German script in the Moravian Archives in Bethlehem, Pennsylvania, allow today's readers to experience the Susquehanna confluence and the rich intercultural exchanges that took place there between Europeans and Native Americans.
"Faull's volume offers a vital gateway to the hidden historical treasures of the Susquehanna River Valley in the eighteenth century. Addressing a rich tapestry of cultures, this book invites scholars and students of Moravian missions, Native American studies, and Indigenous-European contact history to delve into the intriguing stories of this diverse region."
Katherine M. Faull is Professor of German and Humanities at Bucknell University. She is the author or editor of six books and more than forty peer-reviewed articles and chapters. She serves on the editorial board of the Journal of Moravian History and is a member of the board of directors of the Moravian Archives in Bethlehem, Pennsylvania.