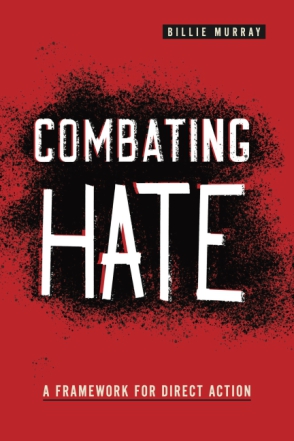 Combating Hate
A Framework for Direct Action
Billie Murray
Buy
Combating Hate
A Framework for Direct Action
Billie Murray
"Combating Hate takes up the vital task of showing how our current methods of responding to hate are hurting our democracy. By using a thoughtful and effective form of scholar-activism, Murray weaves together a rich, firsthand account of the central political confrontations of our moment and teaches us how to develop practical, theoretically sophisticated ways to effectively respond to hate. This is the kind of scholarship that can help save democracy."
Media

Description

Reviews

Bio

Table of Contents

Sample Chapters

Subjects
Watch "PSU Press Presents: Communication in the Disinformation Age," a virtual author event hosted by the Press on April 8th, 2022 with Ashley Rose Mehlenbacher, Seong Jae Min, Billie Murray, and moderator Mary E. Stuckey:
The United States has a hate problem. In recent years, hate speech has led not only to deep division in our politics but also to violence, murder, and even insurrection. And yet established constitutional jurisprudence holds that all speech is protected as "content neutral" and that the proper democratic response to hateful expression is not regulation but "more speech." So how can ordinary citizens stand up to hate groups when the state will not?
In Combating Hate, Billie Murray proposes an answer to this question. As a participant in anti-racist and anti-fascist protests, including demonstrations against the Ku Klux Klan, neo-Nazis, and the Westboro Baptist Church, Murray witnessed firsthand the limitations of the "more speech" approach as well as the combative tactics of anti-fascist activists. She argues that this latter group, commonly known as antifa, embodies a radically different strategy for combating hate, one that explodes the myth of content neutrality and reveals hate speech to be a tactic of fascist organizing with very real, highly anti-democratic consequences. Drawing on communication theory and this on-the-ground experience, Murray presents a new strategy, which she calls "allied tactics," rooted in the commitment to affirm, support, and even protect those who are the victims of hate speech.
Engaging and sophisticated, Combating Hate contends that there are concrete ways to fight hate speech from the front lines. Murray's urgent argument that we reconsider how to confront and fight this blight on American life is essential reading for the current era.
"Combating Hate takes up the vital task of showing how our current methods of responding to hate are hurting our democracy. By using a thoughtful and effective form of scholar-activism, Murray weaves together a rich, firsthand account of the central political confrontations of our moment and teaches us how to develop practical, theoretically sophisticated ways to effectively respond to hate. This is the kind of scholarship that can help save democracy."
Billie Murray is Associate Professor of Communication at Villanova University. Her scholarship has appeared in some of the top journals in the field, including Argumentation and Advocacy, Communication Theory, and Western Journal of Communication.
Acknowledgements
Introduction
1. Context Theory and the Counterspeech System
2. More-Speech Tactics
3. Combative Tactics
4. Allied Tactics
Conclusion
Notes
Bibliography
Index
Mailing List
Subscribe to our mailing list and be notified about new titles, journals and catalogs.