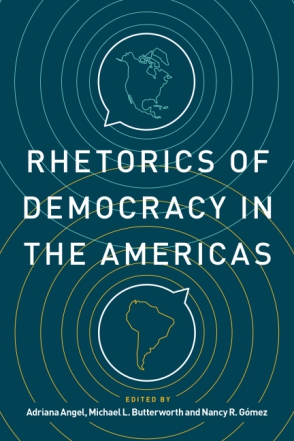 Rhetorics of Democracy in the Americas
Edited by Adriana Angel, Michael L. Butterworth, and Nancy R. Gómez
Buy
Rhetorics of Democracy in the Americas
Edited by Adriana Angel, Michael L. Butterworth, and Nancy R. Gómez
"Rhetorics of Democracy in the Americas offers a valuable lesson. When contending with the Americas, rhetoric, and/or democracy, an investigation of the Idea of the Americas is fundamental to an understanding of what haunts us in the present, essential to the projects of unsettling the 'settler' as a system, and consubstantial for rethinking rhetoric [and] democracy."
Description

Reviews

Bio

Table of Contents

Sample Chapters

Subjects
Democracy is venerated in US political culture, in part because it is
our
democracy. As a result, we assume that the government and institutions of the United States represent the true and right form of democracy, needed by all. This volume challenges this commonplace belief by putting US politics in the context of the Americas more broadly.

Seeking to cultivate conversations among and between the hemispheres, this collection examines local political rhetorics across the Americas. The contributors—scholars of communication from both North and South America—recognize democratic ideals as irreducible to a single national perspective and reflect on the ways social minorities in the Western Hemisphere engage in unique political discourses. The essays consider current rhetorics in the United States on American exceptionalism, immigration, citizenship, and land rights alongside current cultural and political events in Latin America, such as corruption in Guatemala, women's activism in Ciudad Juárez, representation in Venezuela, and media bias in Brazil. Through a survey of these rhetorics, this volume provides a broad analysis of democracy. It highlights institutional and cultural differences in the Americas and presents a hemispheric democracy that is both more pluralistic and more agonistic than what is believed about the system in the United States.

In addition to the editors, the contributors include José Cortez, Linsay M. Cramer, Pamela Flores, Alberto González, Amy N. Heuman, Christa J. Olson, Carlos Piovezani, Clara Eugenia Rojas Blanco, Abraham Romney,
René Agustín de los Santos,
and Alejandra Vitale.
"Rhetorics of Democracy in the Americas offers a valuable lesson. When contending with the Americas, rhetoric, and/or democracy, an investigation of the Idea of the Americas is fundamental to an understanding of what haunts us in the present, essential to the projects of unsettling the 'settler' as a system, and consubstantial for rethinking rhetoric [and] democracy."
"With an impressive diversity of both topics and authors, Rhetorics of Democracy in the Americas invites readers to consider the structural determinants as well as living habits of twenty-first-century politics. Angel, Butterworth, and Gómez demonstrate leadership in intellectual and disciplinary ways, bringing scholars together and suggesting with notable hope the future of international collaborations. This rich and deeply grounded collection courageously directs attention to the racial and class-based struggles that continue to challenge the Americas."
"Rhetorics of Democracy in the Americas is a shining example of why we need to think about god-concepts like democracy across space and time through transnational analysis. Rather than assume the naturalness of the nation-state borders in South, Central, and North America, the authors denaturalize them, telling the stories of their emergence and of how the presence of borders and the relationalities between these borders now shapes what democracy looks like and can be."
Adriana Angel is Associate Professor of Communication at Universidad de la Sabana, Colombia.
Michael L. Butterworth is Professor of Communication Studies at the University of Texas at Austin.
Nancy R. Gómez is Professor of Communication at Universidad del Norte, Colombia.
Acknowledgements
Introduction: Rhetorics of Democracy in the Americas
Adriana Angel, Michael L. Butterworth, and Nancy R. Gómez
Part 1 Questioning the Narratives of Democracy Beyond the West
The Democratic Hemisphere
Christa J. Olson
A Strange Democracy: Rhetoric, Posthegemony, and Latinamericanism
José Cortez
Draining the Democracy: Donald J. Trump and Anti-Immigrant Rhetoric
Alberto González, Amy N. Heuman, and Linsay M. Cramer
Revisiting the Seeming Impossibility of Migrants as Political Actors
René Agustín de los Santos
American Exceptionalism, Baseball Diplomacy, and the Normalization of US-Cuban Relations
Michael L. Butterworth
Part 2 Problematizing and Reconstructing Democracy in Latin America
Communicating About Corruption: Guatemalan Rhetorics
of Corruption
Adriana Angel
Re/Tracing the Local Grassroots Women Activists' Crafting of Rhetorical Agency in Ciudad Juárez, Mexico
Clara Eugenia Rojas Blanco
The Peace Agreement and the Rhetoric of Religion in the Colombian Plebiscite: Religious Activism and Democracy
Pamela Flores and Nancy R. Gómez
People, Media, and Democracy in Brazil: Discourses About Lula's Oratory in the Brazilian Press
Carlos Piovezani
The Farewell Speech of Cristina Fernández de Kirchner
Alejandra Vitale
Spectacular Crisis: Rhetorics of Representation in Venezuela
Abraham Romney
Notes
List of Contributors
Index
Mailing List
Subscribe to our mailing list and be notified about new titles, journals and catalogs.